[:en]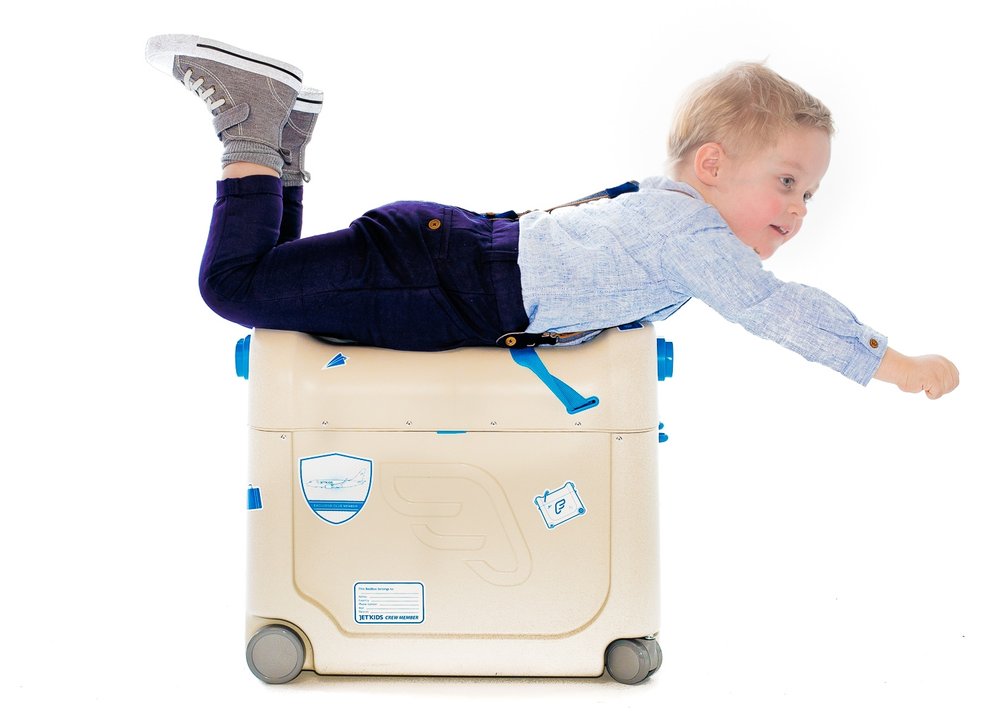 Flying with your baby or toddler is fun but also difficult! Aircraft seats for us as adults are on the tight side, but your child disappears in a that big chair and doesn't sit in an ergonomic way. Sleeping is also a problem, searching for the right sleeping position. If you take your child on your lap, you both get hot and you aren't sitting comfortable. This can be an exhausting experience!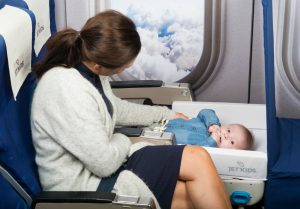 Together with his wife, a pilot and airplane engineer developed an unique product: BedBox. It is a suitcase for children, to rest and ride on but you can also transform it into an inflight bed for your child!
Bedbox is the solution
Suitcases for children with the possibility to ride on already exist on the market, but the possibility to transform it into a childrens bed is unique. The bed box is designed in a way that it fits under the seat. If your child just want to stretch his legs during the flight you can put the BedBox close to the seat.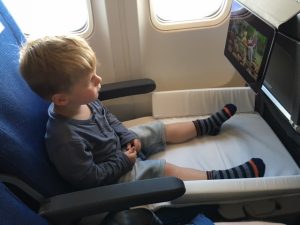 With the turned lid and extension you can enlarge the size of the seat. When it's time to sleep and the light 'seatbelts on' are off you make a cot for your child using the extandable. To make a nice cosy bed for your child a mattress is included which can also be used as a changing mat.
BedBox of Jetkids is suitable for children from zero to seven years, the cot can be used until your child is four years old. A great solution for a practical problem where parents and children are dealing with when travelling. It will also be handy for long train or bus journeys!
https://www.youtube.com/watch?v=aHU5oxWTArw&feature=youtu.be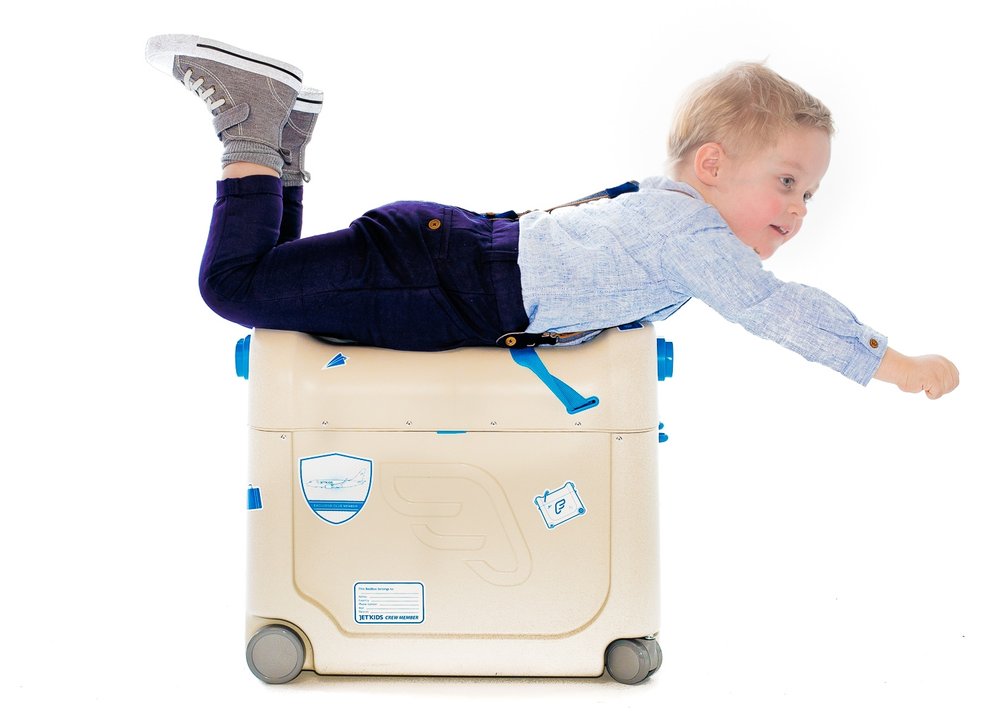 Samen vliegen met je baby of peuter: leuk maar ook lastig! Vliegtuigstoelen zijn voor ons volwassenen aan de krappe kant, maar je kind verdwijnt in zo'n grote stoel en zit bepaald niet ergonomisch. Slapen is helemaal een probleem, want het is altijd zoeken naar een goede slaaphouding. Neem je je kind op schoot, dan krijgen jullie het beiden goed warm, en zowel jij als je kind zitten niet comfortabel. Zo komt er van slapen weinig terecht en raakt je kind uitgeput.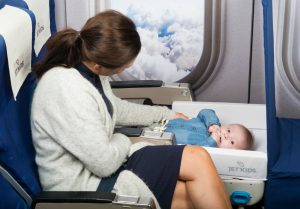 Een piloot en vliegtuigbouwkundige bedacht samen met zijn vrouw een uniek product: BedBox. Het is een koffer speciaal voor kinderen, eentje waar je kind op kan uitrusten en rijden door de handige zwenkwielen maar die je ook kunt transformeren in een slaapplaats voor je kind in het vliegtuig!
BedBox is de oplossing
Speciale koffers voor kinderen waarop ze kunnen zitten en rijden bestaan al langer, maar dat je er een bedje mee kunt maken, dat maakt de BedBox wel heel uniek. BedBox is zo ontworpen dat deze in het bagagevak onder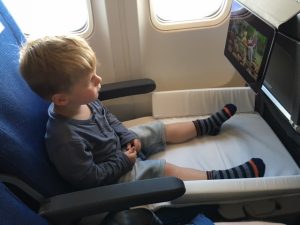 de stoel past. Als je kind gewoon zijn beentjes tijdens de vlucht wilt strekken zet je BedBox tegen de stoelzitting aan. Met de omgedraaide deksel en extra plankje verleng je het zitgedeelte van de stoel.
Wordt het tijd om te slapen en gaat het lampje 'seatbelts on' uit dan maak je van de koffer een kinderbedje met behulp van de uitschuifbare deksel. Met het meegeleverde matrasje maak je er een fijn slaapplekje van. Dit matrasje (wasbaar) kun je natuurlijk ook als verschoonkussen gebruiken.
BedBox van JetKids is geschikt voor kinderen van nul tot zeven jaar, het bedje kun je gebruiken totdat je kind vier jaar oud is. Een mooie oplossing voor een praktisch probleem waar ouders met kleine kinderen die graag reizen mee te maken hebben. Ook tijdens lange trein- of busreizen is de BedBox superhandig!
https://www.youtube.com/watch?v=aHU5oxWTArw&feature=youtu.be