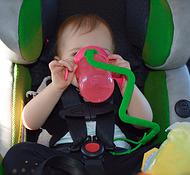 You know the phenomenon of little ones who like to throw things away? They told me that children do this to make things 'disappear' or to attract attention. This is not so bad when it concerns a book or toy, but with a bottle of milk or porridge it is a different story. My youngest one was such a child. He used to throw his bottle away suddenly after drinking it before bedtime, sometimes almost empty, sometimes half full … I still do not know why he did this; was to attract attention? Did he wanted to make it disappear, or was it just a little game for him?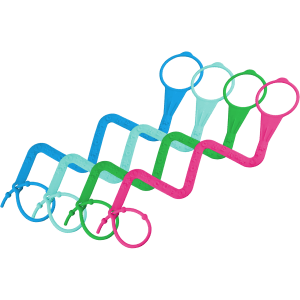 Anyway,there appeared more and more dirty stains on our carpet that were so difficult to clean. My husband and I thought it over to develop something that prevents bottles to be thrown away, but it remained an idea. But this smart inventor really did something with this problem! The Cup Catcher of Brilli Baby is designed in the USA. Design looks good, nice colours too. Ideal for use at home but also for the use in a buggy, stroller or car. Of course you can also use it for a toy! Hopefully soon available in The Netherlands.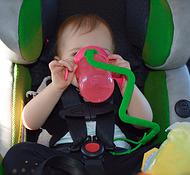 Ken je het fenomeen van kleintjes die het leuk vinden om dingen weg te gooien? Ze hebben mij verteld dat kinderen dit doen om dingen te laten 'verdwijnen' of om aandacht te trekken. Dat is niet zo erg als het om een boekje of speeltje gaat, maar met een flesje melk of pap is het een ander verhaal. Mijn jongste was er ook zo'n eentje. Hij had er de gewoonte van gemaakt om zijn flesje pap die hij vlak voor het slapen dronk, ineens weg te gooien, soms bijna leeg, soms halfvol… Ik weet nu nog steeds niet waarom hij dat deed; was het aandacht trekken? Wilde hij iets wilde laten verdwijnen, of was het gewoon een spelletje?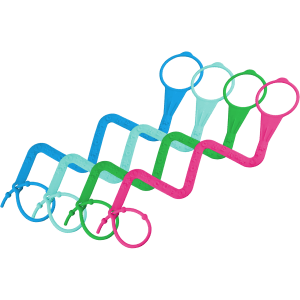 Hoe dan ook, ons tapijt vertoonde steeds meer vieze plekken die we moeilijk konden verwijderen. Manlief en ik hebben het erover gedacht om iets te bedenken waardoor flesjes niet op de grond konden worden gegooid, maar het bleef bij een idee. Maar deze slimme uitvinder deed er dus wel wat mee! De Cup Catcher van Brilli Baby is ontworpen in de USA. Ontwerp ziet er goed uit, leuke kleuren ook. Ideaal voor thuis maar ook om te gebruiken in de buggy, kinderwagen of auto en past ook een speeltje aan! Hopelijk snel in Nederland leverbaar.