[:en]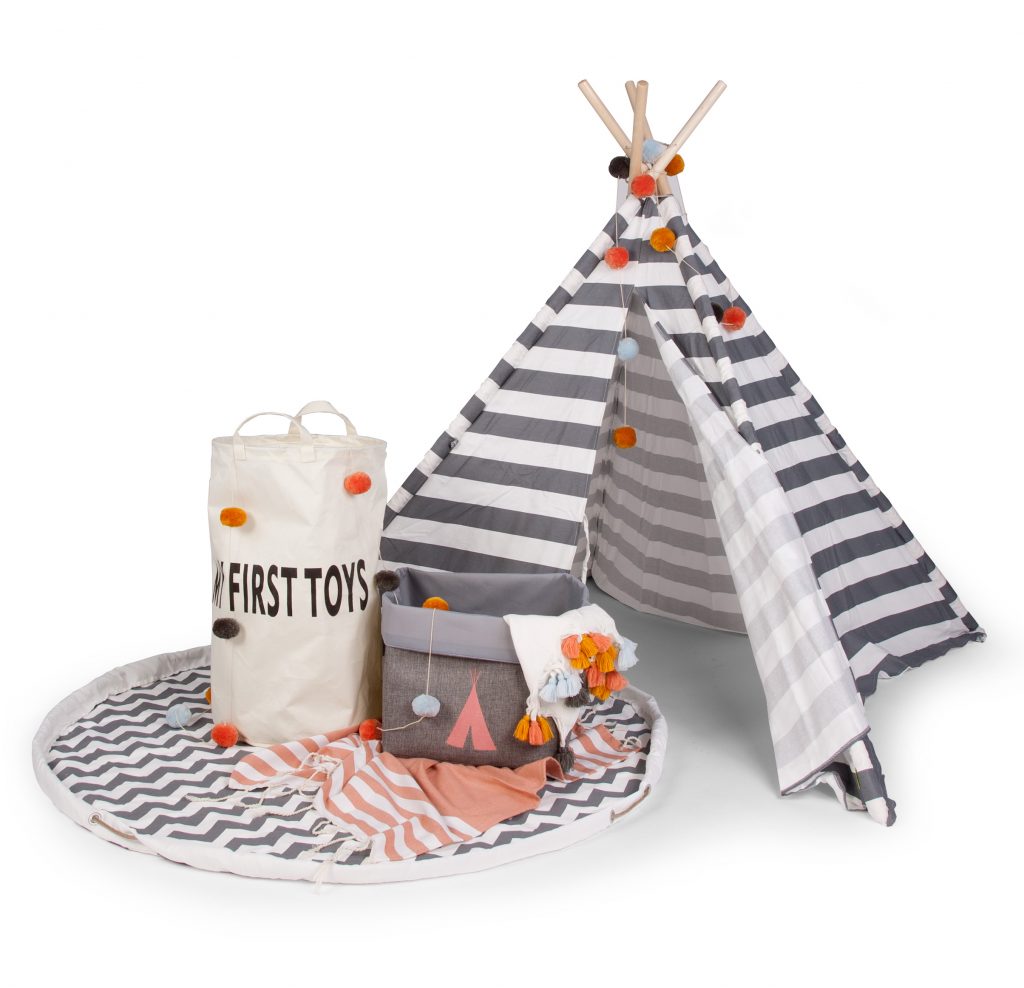 After a week France with plenty sunshine, I am now back in The Netherlands. I am glad to be home, but I have to get used to the cold and gray weather again…So let us go back in the house and make it cozy. My kids used to built tents, in their bedroom, the attic, in the living room, I did'nt mind. With a large sheet or old duvet cover and some clothespins they made great tent homes where they often wanted to sleep in. Of course they dragged with cushions and small tables and here and there it was needed to fasten a line.
Tipi tents are a lot easier to use, it's unfolding the tent poles, place the tent and that's it. These Tipi tents are totally hip again and brands bring out special models. So, the sloppy tents with old striped and floral patterns make room for hip Tipi tents which also look very stylish in the children's room or your living room. They come in uni color, with zigzag, diamonds, retro or Scandinavian style. They are very decorative and it's also possible to make one yourself if you are a bit handy.
These Tipi Tents are not only nice for older children, even little ones can have fun playing here. Dismantling is easy but of course all the cushions and rugs still must be cleared here. But mom is happy to give a helping hand with that.
Images from the top down: Childhome, Kids Depot, mini Tipi of Maileg, Lifetime Camp Canyon, yellow with diamonds pattern Nobodinoz, bottom image: Taftan.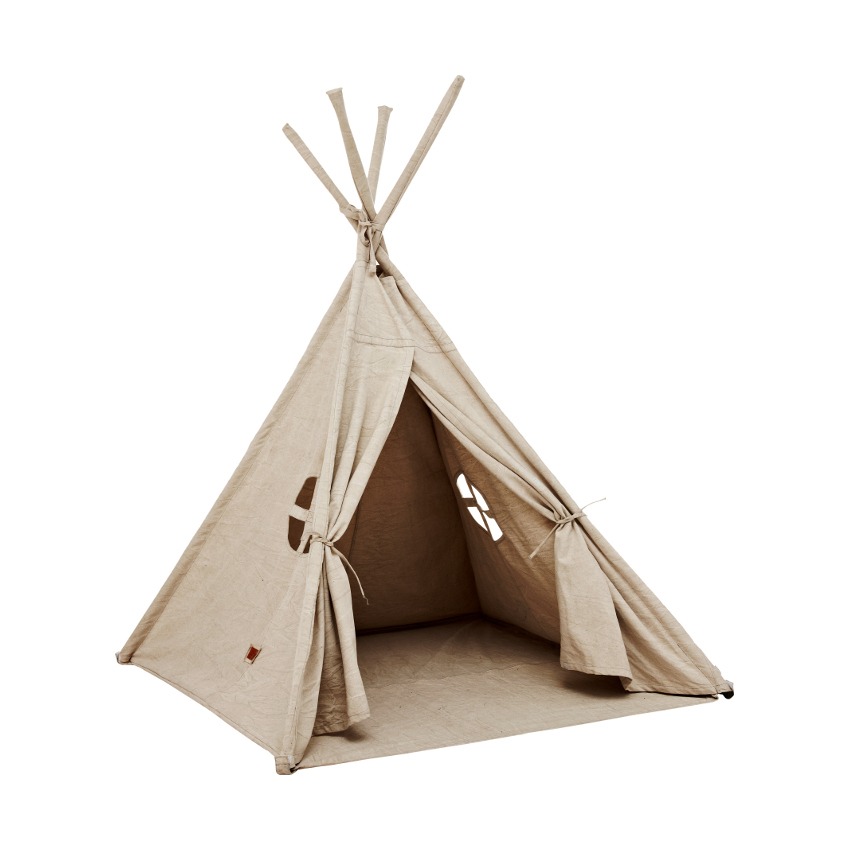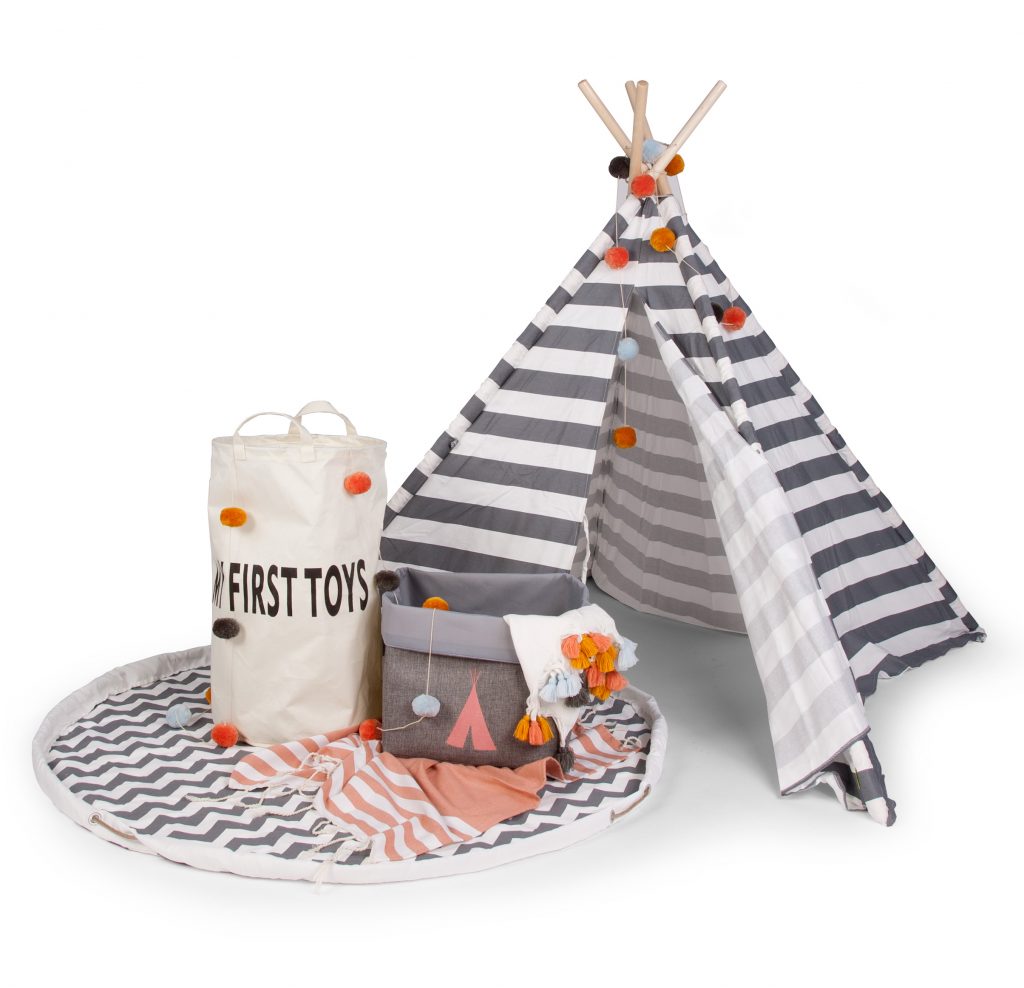 Na een weekje Frankrijk met volop zon, ben ik nu weer terug in Nederland. Fijn om weer thuis te zijn, maar het koude en grijze weer valt als een deken over me heen….dat is even wennen. Dus trekken we ons weer terug in huis en maken het daar gezellig. Ik liet mijn kinderen vroeger graag tenten bouwen, in hun slaapkamer, op zolder, in de woonkamer, het maakte me niet uit. Met een groot laken of oud dekbedovertrek en wat knijpers maakten ze geweldige tenthuisjes waar ze ook nog graag in sliepen als dat kon. Er werd gesleept met kussens en kleine kastjes en hier en daar moest een lijntje worden gespannen.
Met Tipi tenten gaat dat veel gemakkelijker, want dat is stokken uitvouwen, tent ophangen en klaar is kees. En nu deze tenten weer helemaal hip zijn spelen verschillende merken daar goed op in. De slordig gebouwde tenten met oude streep- en bloemetjesmotieven maken plaats voor hippe Tipitenten die er ook nog eens heel stijlvol uitzien in de kinder- of woonkamer. Ze zijn er in unikleuren, met zigzag met ruitjes, retro of Scandinavische stijl. Ze zijn hartstikke decoratief en voor de creatievelingen onder ons: je schijnt ze ook goed zelf te kunnen maken. Deze Tipitenten zijn niet alleen geschikt voor oudere kindjes, ook kleintjes kunnen hier veel plezier aan beleven. Afbreken is zo gebeurd, al moeten de kussentjes en kleedjes nog wel even worden opgeruimd. Maar dan helpt mama graag een handje mee.
Foto's: van boven naar onderen: Childhome, Kids Depot, mini Tipi van Maileg, Lifetime Camp Canyon, gele in ruitpatroon van Nobodinoz, en onderste haakte Tipi van Taftan.