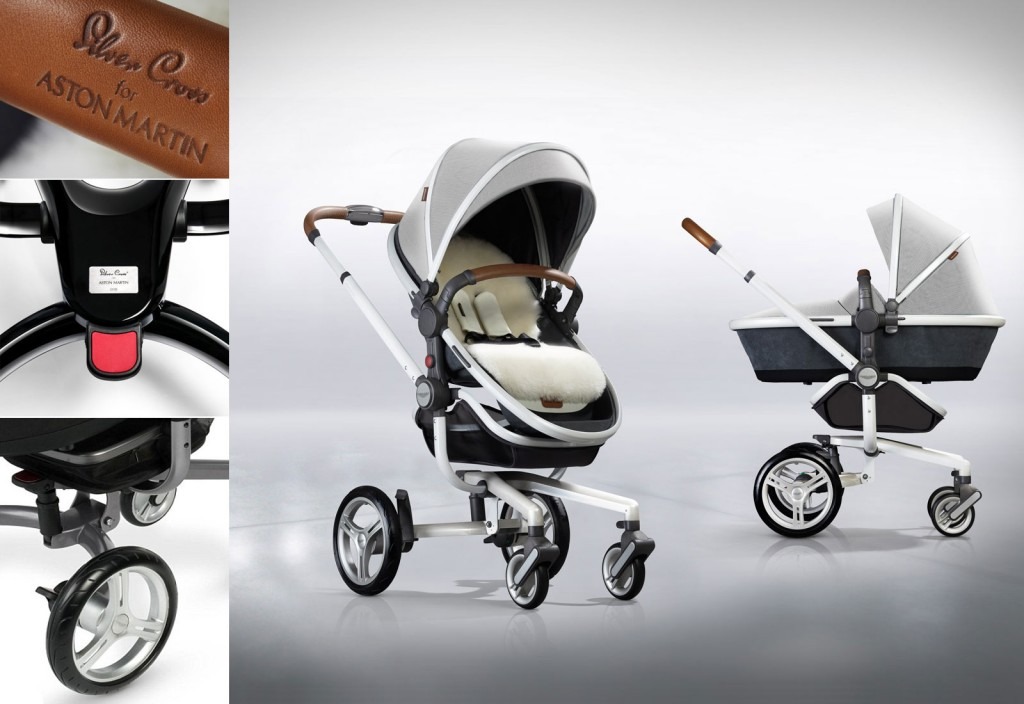 If you're a fan of James Bond you know Aston Martin. This British super car was introduced in the classic movie 'Die Another Day' and won various prizes with its striking design. A dream for many men (and perhaps women!); he drove nearly 310 km per hour, reached a speed of 100 km per hour within 5 seconds and driving felt as you were driving a Formula 1 car. For this speed demon you had to pay a small 370.000 euro.
Now the British stroller brand Silver Cross has a beautiful partnership with Aston Martin. The result is the Silver Cross Surf Aston Martin Edition and we saw it shine at Kind + Jugend in Cologne. The costs for this British luxury are a lot less than the real Aston Martin engine, 'only' 3.040 euro and the running speed is, unfortunately, only 5 miles per hour.
Now from an established name in de automotive and technology I expected something special, but that is disappointing. It is a complete travel system with a frame that folds flat, adjustable seat for use facing forward or reverse and a carrycot that can be used from birth. But isn't that the case with a lot of strollers nowadays? The basket really is a minus: you cannot store a loaf of bread into it.
In terms of looks the Silver Cross Surf Aston Martin Edition scores a lot better: the stroller is finished with beautiful leather, Alcantara lining, aluminum rims that look like the Aston Martin One 77 and of course decorated with the famous Aston Martin wings. Available in black gray and white-gray version at some exclusive department stores worldwide including Harrods in England in a limited edition of 800 pieces. Reservation is recommended.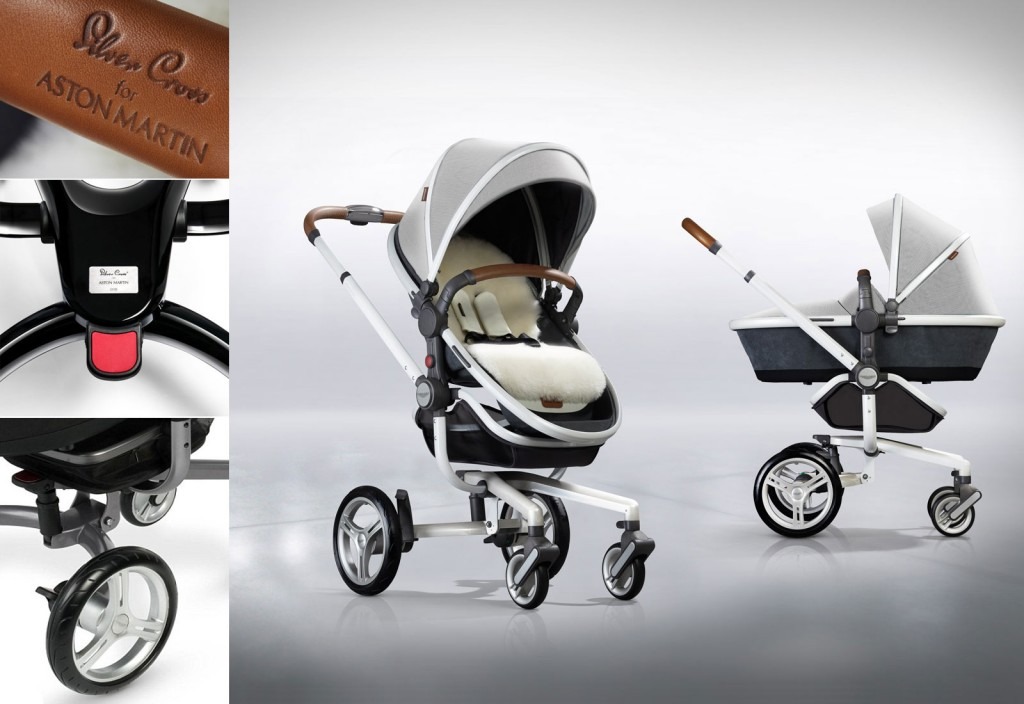 Wie gek is van James Bond kent Aston Martin. Deze Britse superwagen werd bekend in de klassieker 'Die Another Day' en dit model sleepte met zijn opvallende vormgeving diverse prijzen in de wacht. Een droom voor heel wat mannen (en misschien ook wel vrouwen!); hij haalde bijna 310 km per uur, zat binnen 5 seconden op 100 km per uur en schakelde zoals in een Formule 1 auto. Je moest voor deze snelheidsduivel ook wel wat neertellen: een kleine 370.000 euro.
Nu is het oer Engelse kinderwagenmerk Silver Cross een mooie samenwerking aangegaan met Aston Martin. het resultaat is de Silver Cross Surf Aston Martin Edition die we in Keulen op de Kind + Jugend zagen schitteren. De kosten voor deze Engelse luxe zijn een stuk minder dan de echte Aston Martin met motor, namelijk 'slechts' 3.040 euro en de loopsnelheid is helaas maar 5 km per uur.
Nu had ik van een autofabrikant met zo'n naam in techniek wel wat bijzonders verwacht, maar helaas. Het is een compleet reissysteem met een frame dat plat worden opgevouwen, de verstelbare zitting is zowel naar voren als omgekeerd te gebruiken en de reiswieg kan vanaf de geboorte worden gebruikt. Maar geldt dat niet voor heel veel kinderwagens? De boodschappenmand scoort bij mij een onvoldoende: hier past nog niet eens een heel brood in.
Qua looks scoort deze Silver Cross Surf Aston Martin Edition wel hoge ogen: de kinderwagen is afgewerkt met prachtig leer, Alcantara bekleding, aluminium velgen die lijken op de Aston Martin One 77 en natuurlijk versierd met de famous Aston Martin wings. Verkrijgbaar in zwartgrijs en witgrijze uitvoering. Verkrijgbaar bij enkele luxe warenhuizen wereldwijd waaronder Harrods in Engeland in een gelimiteerde oplage van 800 stuks. Reserveren is gewenst.