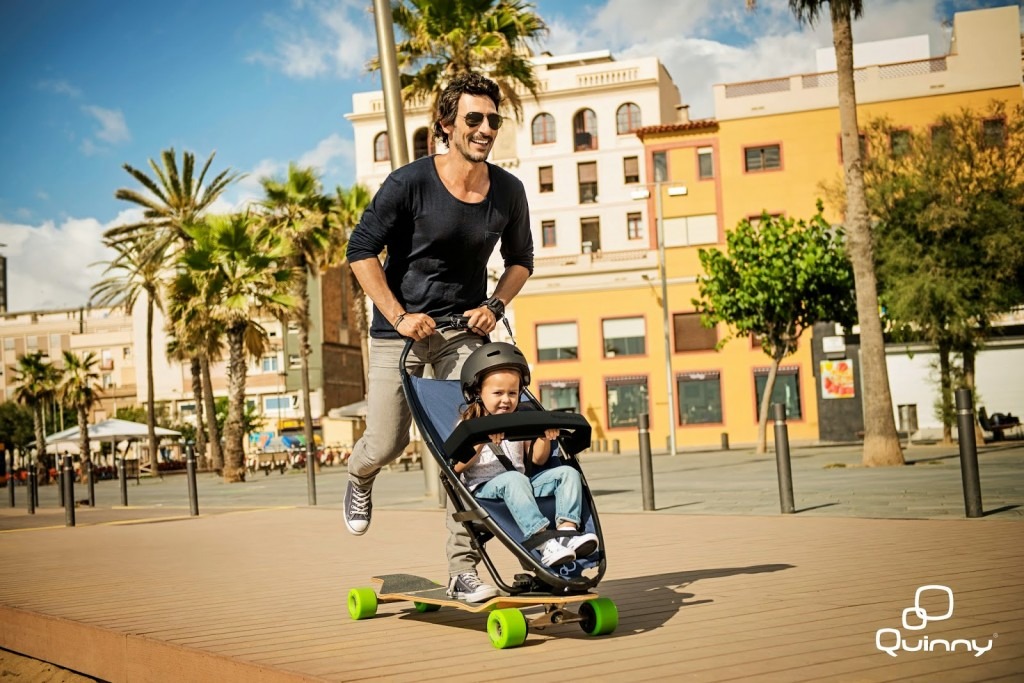 Can you combine the comfort of a stroller with a pleasure of longboarding? Yes, was the opinion of the design department of Quinny. After a few years of testing and fine tuning the product is now ready for the market. Everyone knows what a stroller is, but what is a longboard? For the nitwits among us … it is a kind of skateboard with thicker wheels for more stability.
For sure I see the advantages: you're on the place of destination with your child in no time and of you definitely attract a lot of attention. So a nice product for sporty parents. He also looks very flashy, the team worked closely with longboard manufacturers. But what about security? He has a strong bumper and a handbrake. The average speed of a longboard stroller is about 15 km per hour, that is something different than a walking speed of 5 km per hour. What about the traffic, unexpected turns or emergency stop? I see the crashes for me, brrr. It is not for nothing that the child wears a helmet!
Therefore, in my opinion the longboardstroller is only suitable for a small group of people who are pro's in skateboarding or longboarding. That is probably the reason that it is available in a limited edition of 1000 pieces. The stroller costs 599 euro's and can only be delivered within the European Union. And that probably has to do with the safety rules and tests in other continents. All together a remarkable but risky gadget!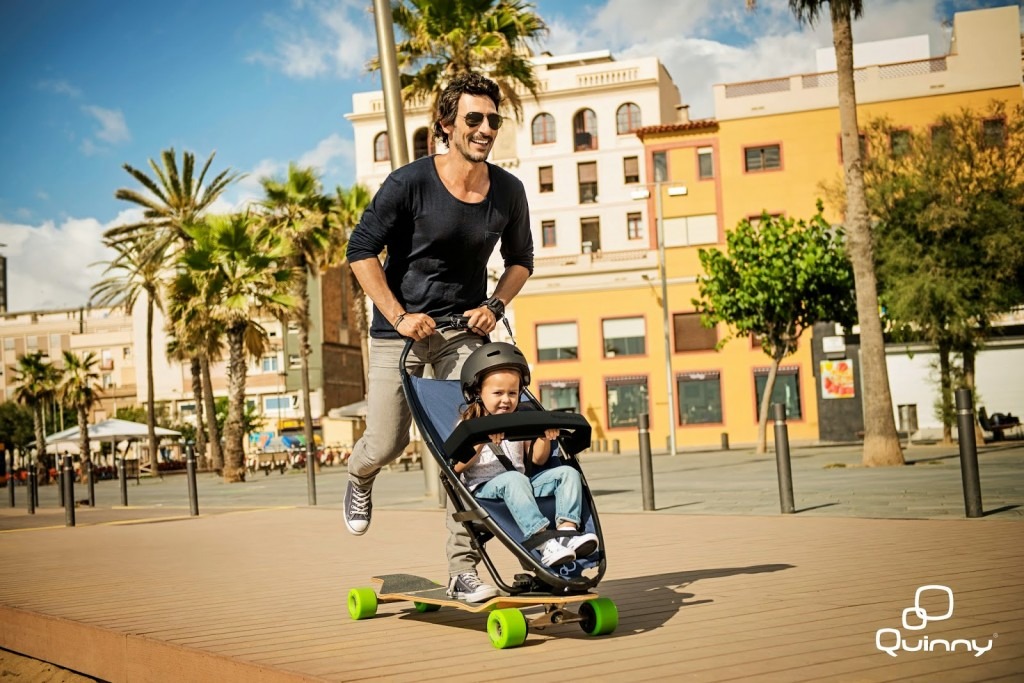 Kun je het comfort van een kinderwagen combineren met een plezier van longboarding? Yes, dacht het ontwerpteam van Quinny. Na een paar jaar testen en finetunen is het product nu gereed voor de markt. Iedereen weet wat een kinderwagen is, maar wat is een longboard? Voor de nitwits onder ons… dat is een soort skateboard maar met dikkere wielen voor meer stabiliteit.
De voordelen zie ik zeker: je bent snel met je kind ter plaatse en je springt er natuurlijk uit in het straatbeeld. Dus het lijkt me zeker wel wat voor sportieve ouders die vrijheid en mobiliteit hoog in het vaandel hebben staan. Hij ziet er ook nog eens blits uit, voor de uitvoering werd nauw samengewerkt met longboard producenten. Maar hoe zit het met de veiligheid? Hij heeft een stevige bumper en een handrem. De gemiddelde snelheid van een longboardstroller is ongeveer 15 km per uur, dat is toch wat anders dan een wandelsnelheid van 5 km per uur. En hoe zit het met het verkeer, plotseling moeten wenden, of een noodstop maken? Ik zie de valpartijen al voor me, brrr. Het kind heeft niet voor niets een helm op!
De longboardstroller is volgens mij dan ook alleen geschikt voor een kleine groep sportievelingen die het skateboarden of longboarden zeer machtig zijn. Dat is waarschijnlijk ook de reden dat deze in een beperkte oplage van 1000 stuks verkrijgbaar is. De stroller kost 599 euro en wordt alleen binnen de Europese Unie geleverd. En dat zal wel weer te maken hebben met de veiligheidseisen en testen in andere continenten. Al met al een opvallende maar gewaagde gadget!