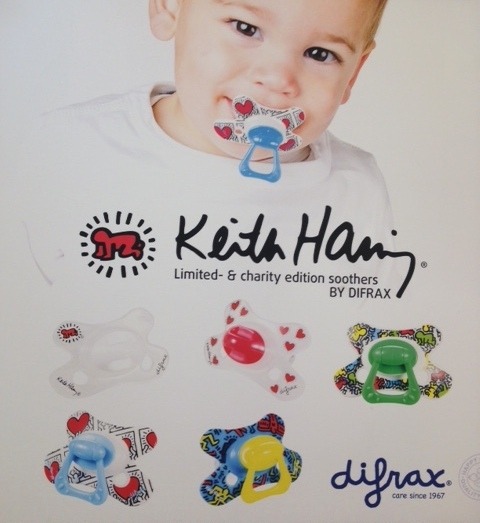 You probably have heard of the artist Keith Haring. This American artist is known for his pop art and graffiti art. One of the characters is 'Radiant Baby'. He used this symbol in its first years of his artistic life as a kind of signature in many of his works. He saw Radiant Baby as the purest and most positive experience of human existence. On the tradeshow Kind + Jugend in Cologne Difrax launched in the presence of Dutch painter (it was nice to see him making a painting in such a short time) a new collection pacifiers inspired by Radiant Baby. The unique butterfly-shaped pacifiers are sold in five sizes at Prénatal stores. Nice to give your baby some art! It's also nice to learn that of each sold pacifier one Euro is donated to the Keith Haring Foundation which is dedicated to children affected by HIV/AIDS. Do you want to see more about Keith Haring? The exhibition Keith Haring, the Political Line can be attended until February 7, 2016 in the Kunsthal Rotterdam.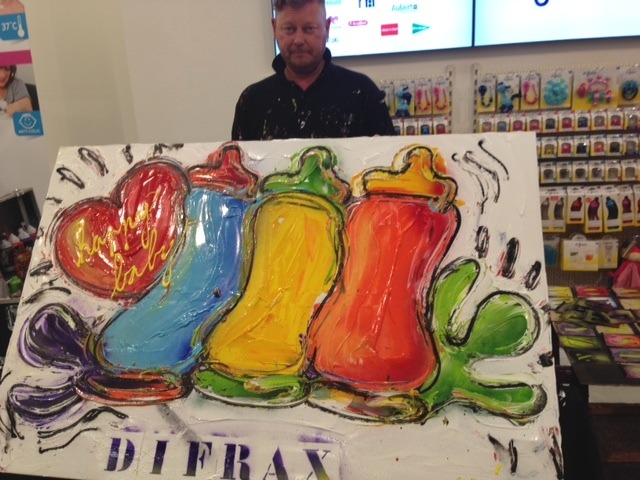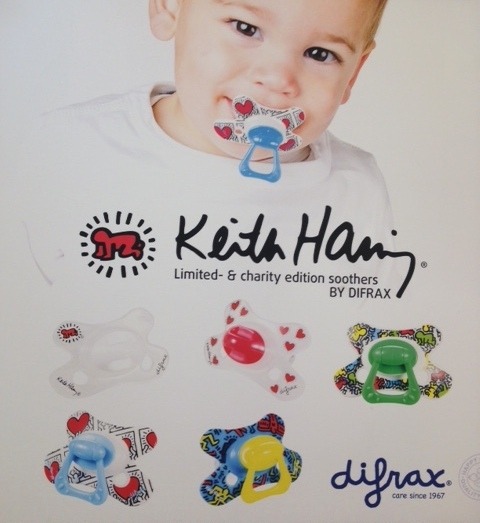 Vast wel eens gehoord van kunstenaar Keith Haring? Deze Amerikaanse kunstenaar staat bekend om zijn popart of graffiti-art. Eén van de geesteskinderen van Keith Haring is 'Radiant Baby'. Hij gebruikte dit symbool in zijn eerste jaren van zijn kunstenaarsleven als een soort handtekening in veel van zijn werken. Hij zag Radiant Baby als de puurste vorm en meest positieve ervaring van het menselijk bestaan.
In Keulen lanceerde Difrax in aanwezigheid van een Nederlandse kunstenaar een nieuwe collectie spenen met de Radiant Baby als uitgangspunt (het was leuk om deze in een razend tempo een schilderij te zien maken!). De unieke vlindervormige spenen worden in vijf maten verkocht via Prénatal. Een goed idee om je baby een beetje kunst te geven! Het mooie is ook dat van elke verkochte speen een euro per speen aan het Keith Haring Foundation wordt gedoneerd, een stichting die zich helemaal inzet voor kinderen die getroffen zijn door HIV/aids. Meer zien van Keith Haring? De tentoonstelling Keith Haring, the Political Line is tot en met 7 februari 2016 te zien in de Kunsthal Rotterdam.