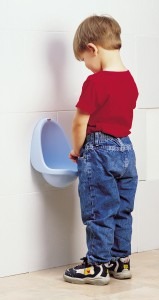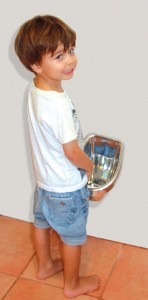 Heard on the news? There is a sticker campaign going on to persuade men to urinate while sitting, which is better for the pelvic muscles but also causes less splashes. Immediately an expert appeared in the news who found it ridiculous that men should urinate sitting only to please women. 'There are simply things for men and things for women, was his answer, women should not interfere.' I saw that this gentleman was not very tall. Does he has any idea how big the distance to a toilet bowl is if a man measures, say a meter or two in length? This will definitely result in a splash zone. That's why in some families men are kindly asked to sit down. Yes, you're right, I speak from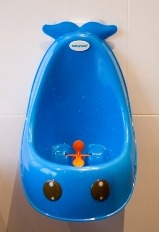 experience. Let's not forget that in The Netherlands (and some other countries), men are becoming taller and taller, so you can have your fun with cleaning the toilet!
So I would say, take a close look at your family and see if your kids have a chance to become tall or not. If that's not the case, you can safely offer little boys these fun gadgets with which you can learn them to pee like a tough guy!
Images: Happy Pee (Jippie's), Weepot (Maguari), jongensurinoir Babyhood (A3)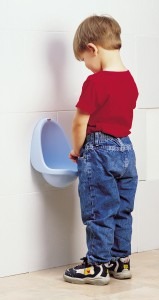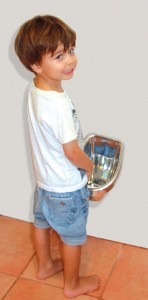 Gehoord op het nieuws? Er is een stickeractie gaande om mannen over te halen zittend te plassen, dat is beter voor de bekkenbodemspieren en zorgt ook nog eens voor minder spetters. Daarop kwam direct een deskundige in het nieuws die het belachelijk vond dat mannen zittend moeten plassen alleen om de wens van vrouwen in te willigen. 'Er zijn nu eenmaal mannendingen en vrouwendingen, was ongeveer zijn antwoord, daar moeten vrouwen zich niet mee bemoeien'. Begrijpelijk maar zo te zien was deze meneer niet zo heel groot. Heeft deze meneer enig idee hoe groot de afstand naar wc pot wordt als mannen, zeg een metertje of twee lang zijn? Dat heeft veel spettergeweld tot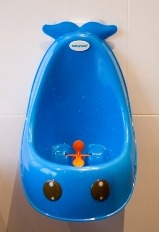 gevolg. Daarom wordt in sommige families vriendelijk gevraagd of deze mannen zittend willen plassen. Ja hoor, ik spreek uit ervaring. Daarbij moeten we niet vergeten dat in Nederland (en sommige andere landen) mannen steeds iets langer worden, dus je kunt je lol op bij het wc schoonmaken!
Dus ik zou zeggen: kijk even naar je familie of je kinderen een kans hebben om lang te worden of niet. Is dat niet het geval dan kun je met een gerust hart deze leuke gadgets aanbieden waarbij je kleine jongetjes kunt leren plassen als een stoere vent!
Foto's: Happy Pee (Jippie's), Weepot (Maguari), jongensurinoir Babyhood (A3)