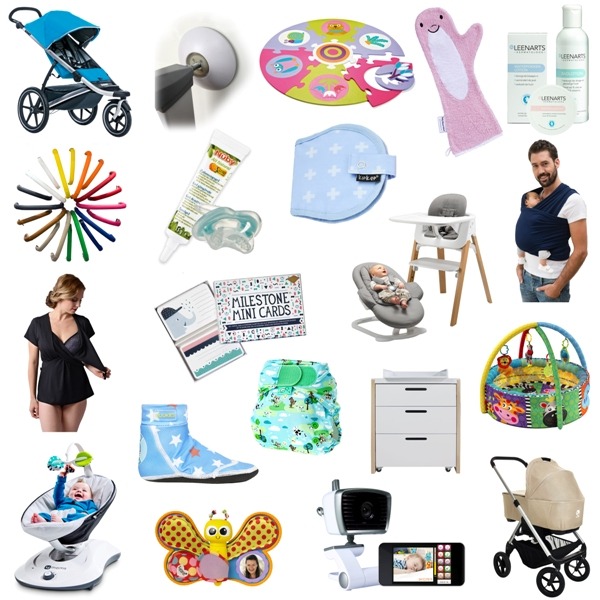 Yes, it's time! The nominees of the BabyStuf Baby Innovation Award are announced! The jury day began with getting up early to drive all articles in several cars to NH Hotel Naarden. There they were unloaded in a spacious room, unpacked, displayed and provided with descriptions. Not much later, the members of the jury trickled in, some came by train, some by car, others even by bike. After instruction, coffee, tea and yummie things to eat, the program started with several demos of technical products such as strollers, car seats and baby monitors. In the afternoon the great work began, which product earned a nomination? Therefore any product was subjected to a thorough inspection of the jury. At the end of the day the jury was unanimous in its decision. As organisator we fully support their choices and could return home satisfied with fully loaded cars again.
In the category Mobility is nominated: Tricycle Urban Glide Thule, stroller Easy Walker Mosey and sling Tricot Slen Cool of Babylonia.
In the category Travel & Safety: Duukies Beach Socks, Jippie's Wall Saver, DVM 400 Hybrid HD image Baby Monitor of Alecto and XQC covers to pimp your stroller of Maguari.
In the category Care: Citroganix toothpaste with Gum-eez bites figure Nûby, Baby Shower Glove of Invented4Kids, Easyfit Binky washable nappy from Tots Bots and baby skin care products from Dr. Leenarts.
In the category Feeding: Mammae Moments Breastfeeding top and Napper Nursery Wallet of Kip Kep.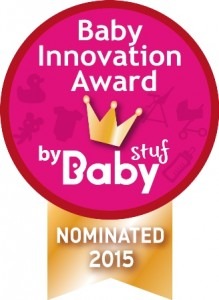 In the category of Furniture & Decoration are nominated: rockaRoo baby swing of 4Moms, Stokke Steps bouncer and high chair and Ilya mobile changing table system of Bopita.
In Toys & Gifts won Milestone Mini Cards, Ball Play Activity Gym Nest of Playgro, Butterfly Who am I of Lamaze and the Safe and Fun Playmat of Oops.
Do you want to learn more the products? Please have a look at: www.babyinnovationaward.nl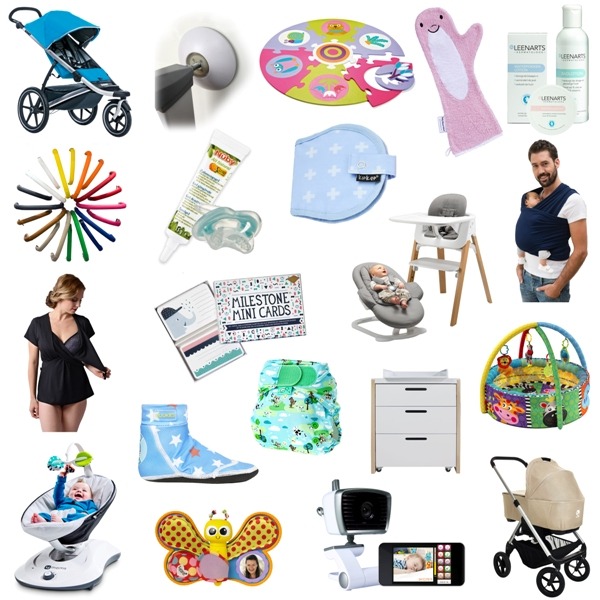 Ja, het is zover! De genomineerden van de BabyStuf Baby Innovation Award verkiezing zijn bekend! De jurydag begon met vroeg opstaan om alle artikelen in meerdere auto's naar NH Hotel in Naarden te rijden. Daar werden ze in een ruime zaal uitgeladen, uitgepakt, uitgestald en voorzien van beschrijvingen. Niet veel later druppelden de juryleden binnen, sommige gehaald van de trein, sommige met de auto, andere zelfs met de fiets. Na instructie, koffie, thee met lekkers werd begonnen met verschillende demo's van technische producten zoals kinderwagens, autostoelen en babyfoons. 's Middags na de lunch begon het grote werk, want welk product verdiende een nominatie? Daarvoor werd gewikt en gewogen en elk product aan een grondige inspectie onderworpen. Aan het einde van de dag kon de jury unaniem de genomineerden vaststellen. Wij als organisatie staan helemaal achter deze keuze en keerden na een volle dag weer voldaan met volgeladen auto's naar huis.
In de categorie Mobility werd genomineerd: Driewieler Urban Glide van Thule, kinderwagen EasyWalker Mosey en draagdoek Tricot Slen Cool van Babylonia.
In de categorie Travel & Safety: Duukies Beachsocks, Jippie's Wallsaver, DVM 400 Hybrid HD beeldbabyfoon van Alecto en XQC hoezen om je kinderwagen te pimpen van Maguari.
In de categorie Care: Citroganix tandgel met Gum-eez bijtfiguur van Nûby, Baby Shower Glove van Invented4Kids, Easyfit Binky wasbare luier van Tots Bots en baby huidverzorgingsproducten van Dr. Leenarts.
In de categorie Feeding: de Mammae Moments Borstvoedingstop en de Napper Nursery Wallet van Kip Kep.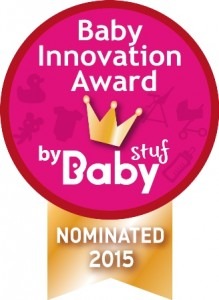 In de categorie Furniture & Decoration werd genomineerd: rockaRoo babyschommel van 4 Moms, Stokke Steps wipstoel én kinderstoel en Ilya mobiel commodesysteem van Bopita.
Bij Toys & Gifts wonnen MileStone Minicards, Ball Playnest Activity Gym van Playgro, Vlindertje Wie ben ik van Lamaze en de Safe and Fun Playmat van Oops.
Meer weten over de producten? Kijk op: www.babyinnovationaward.nl