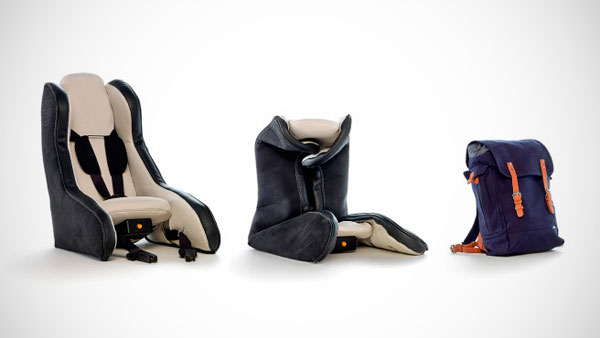 Inflatable Volvo children car seat
One press of the button and 40 seconds later you have an inflatable rear facing car seat for children up to 1 meter (3 and 4 years old). The inflatable Child Seat Concept inflates itself with an integrated air pump. How the power exactly works is kept a secret. According to Volvo, this car seat is just as safe as regular car seats, but with the great advantage that it can be folded to a little package for travelling. Lawrence Abele, Design Manager at Volvo was annoyed by the hassle with his two toddlers in car seats at airports and rental cars. He was inspired by the Volvo Ocean Race where they use sustainable and high quality materials for sailing equipment . The biggest challenge however was to create a beautiful design with soft lines and comfortable seating with the thick material. The seat weighs less than 5 kilograms and also has a Bluetooth connection to inflate the seat by smartphone. I will keep an eye on these exciting developments, though there are no production plans yet, first the seat will be further developed.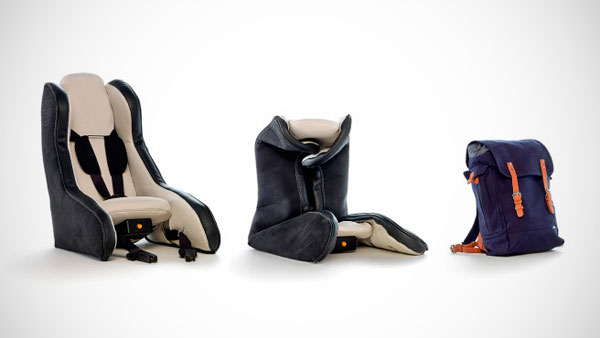 Een druk op de knop en 40 seconden later heb je een opgeblazen, achterwaarts gericht autostoeltje voor kinderen tot 1 meter lang (3 en 4 jarigen). De inflatable Child Seat Concept blaast zichzelf op met een geïntegreerde luchtpomp. Hoe de stroomvoorziening precies werkt wordt nog even geheim gehouden. Volgens Volvo is deze autostoel net zo veilig als gewone autozitjes, maar met het grote voordeel dat je deze autostoel in opgevouwen staat overal mee naar toe kunt nemen. Ontwerper Lawrence Abele, Design Manager bij Volvo vond het maar een gedoe; met zijn twee peuters in autostoeltjes op luchthavens en huurauto's. Hij liet zich inspireren door de Volvo Ocean Race waar duurzame en hoogwaardige materialen worden gebruikt in zeiluitrustingen. De grootste uitdaging was volgens Lawrence het vertalen van het dikke materiaal naar een mooi ontwerp met zachte lijnen en goed zitcomfort. Het zitje weegt minder dan 5 kilo en heeft ook een Bluetooth verbinding waarmee je deze per smartphone kan opblazen en ontluchten. Ik blijf deze spannende ontwikkelingen op de voet volgen, al zijn er nog geen productieplannen, het stoeltjes wordt eerst verder ontwikkeld.