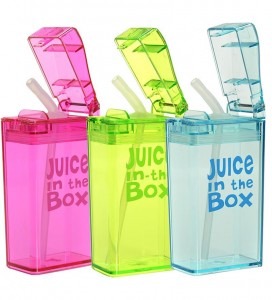 This weekend I visited tradeshow kleine fabriek in Amsterdam, always a nice event for making contacts, gaining ideas and sniff some news! On this fair I ran into this Juice in the Box. What is it?
Think of all those disposable drink packages that end up in the garbage, not so good for our environment and usually filled with a lot of sugar so unhealthy for our children. The designers of Juice in the Box were looking for a good alternative. One that is reusable, can be taken anywhere, wil not break easily and is dishwasher safe. A juice box which you can fill with (homemade) juices or plain water with a slice of lemon or orange for flavor. Healthy and cheap and you give the environment a helping hand!
Chapeau to the designers; this Juice in the Box has a leakproof closure, is easy to clean, is toxin free and has nice looks too. Many mothers will like this, I am sure!
https://www.youtube.com/watch?v=8J9I-LYxQSw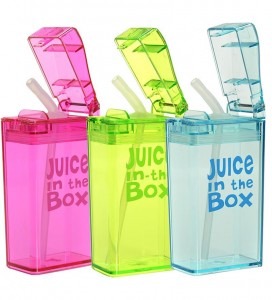 Dit weekeinde de vakbeurs de kleine fabriek in Amsterdam bezocht, altijd weer een leuke happening voor het leggen van contacten, opdoen van ideeën en opsnuiven van nieuws!  Zoals deze Juice in de Box die ik tegen het lijf liep. Wat het is?
Denk eens aan al die lege pakjes drinken die in de vuilnisbak belanden, niet zo goed voor ons milieu en meestal gevuld met mierzoete en ongezonde drankjes voor onze kinderen. De ontwerpers van Juice in the Box zochten naar een goed alternatief. Eentje die herbruikbaar is, overal mee naar toe kan worden meegenomen, die tegen een stootje kan en in de vaatwasser mag. Die je naar wens kunt vullen met (zelfgemaakte) sapjes of gewoon water met een schijfje citroen of sinaasappel voor de smaak. Gezond en goedkoop en je helpt het milieu een handje!
Chapeau voor de ontwerpers; deze Juice in the Box heeft een lekvrije sluiting, is gemakkelijk te reinigen, gemaakt zonder schadelijke stoffen en ziet er ook nog eens blits uit. Hier zullen heel veel moeders blij mee zijn denk ik zo! Dit voorjaar hopelijk verkrijgbaar in Nederland. Hieronder nog een leuk filmpje over Juice in the Box.
https://www.youtube.com/watch?v=8J9I-LYxQSw