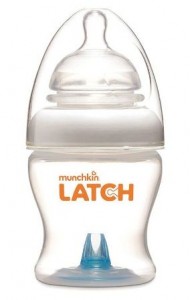 Another new type of bottle? Yes, and what kind of one! This Munchkin Latch has a unique teat that our jury had never seen. It stretches and moves flexibly in all directions. Milk only flows when the baby puts pressure and sucks just as at mum's breast. The anti-colic valve in the base reduces risk of colic. Never before we came so close to breastfeeding.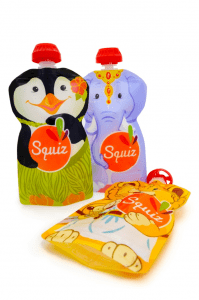 From the moment a baby switches to solid foods these Squiz reusable squeeze pouches are very practical. Whether you fill hem with fruit or fruit snacks, yogurt or smoothies, you can easily fill them with the double zipper on the bottom and clean them in soapy water, time after time. They can even be cooled in a refrigerator or freezer and reheated. So handy for on the go or at the babysitter!
Get rid of all those drinkpacks with to much sugar that are so bad for the teeth and health of our children. A good alternative is Drink in the Box from Wereldmama. How it works? You fill Drink in the Box with fresh fruit and water or other healthy juice, click it to close and your child has a healthy drinkpack with a flashy looks. It's transparent so you can exactly see what in it. The packet can always be reused so helpful for a better environment.

These are the nominations in the category Feeding in the Baby Innovation Award elections!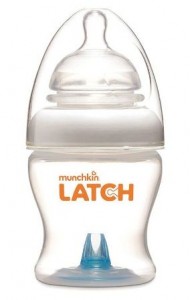 Weer een nieuw type fles? Ja, en wat voor eentje! Deze Munchkin Latch heeft een unieke speen die onze jury nog nooit had gezien. Hij rekt en beweegt flexibel naar alle kanten. Zodra de baby druk zet en zuigt komt er pas melk uit de speen, net als bij de moederborst. De anti-koliek ventiel in de bodem vermindert kans op krampjes. Nog niet eerder kwamen we zo dicht bij het geven van borstvoeding. Zie ook dit filmpje.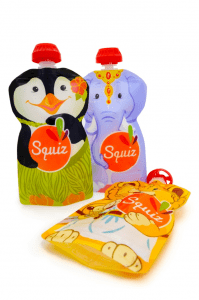 Vanaf het moment dat een baby overstapt naar vast voedsel zijn deze Squiz herbruikbare knijpzakjes reuze handig. Of je ze nu vult met groenten- of fruithapjes, yoghurt, smoothies, je kunt ze door de dubbele zipper aan de onderzijde gemakkelijk vullen en reinigen in een sopje, keer na keer. Ze kunnen zelfs worden gekoeld in koelkast of vriezer en worden opgewarmd. Super handig voor onderweg of bij de oppas!
Weg met al die pakjes met mierzoete drankjes die zo slecht zijn voor het gebit en gezondheid van onze kinderen. Een goed alternatief is Drink in the Box van Wereldmama. Hoe het werkt? Je vult Drink in de Box met verse vruchten en water of een ander gezond sapje, klikt de boel dicht en je kind heeft een gezond pakje dat er ook nog iets blits uitziet. Door de transparante uitvoering zie je precies wat er in het pakje zit. De pakjes kunnen steeds worden hergebruikt dus je draagt ook nog eens je steentje bij aan een beter milieu.
Dit zijn de genomineerden in de categorie Feeding van de Baby Innovation Award!