[:en]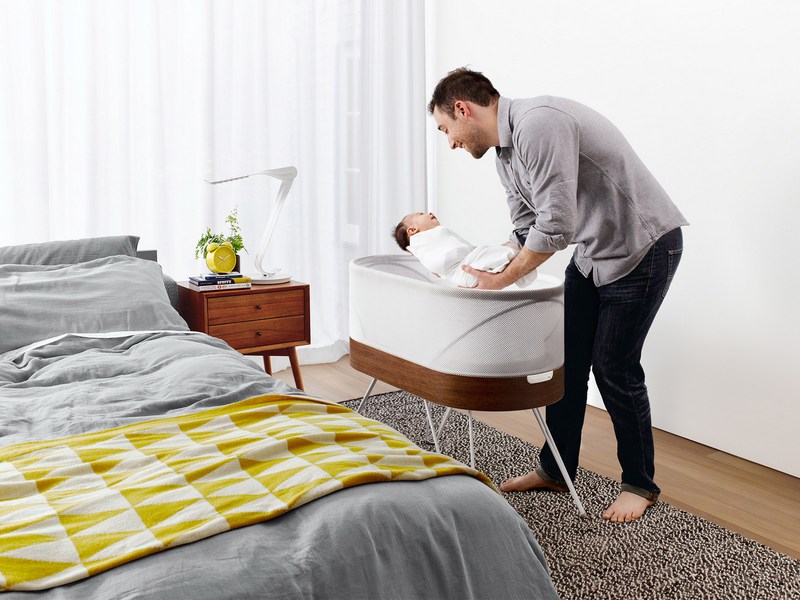 If you put a child from your arms in his crib, crying is often the result. This is because the transition from rocking your baby in your arms (and before that in your womb!) is quite large. Your baby suddenly lies in a cot all alone without movement, without hearing the rumble of your innards, the rustling of your blood and the beating of your heart. Your baby can experience this as very quiet and he or she can feel very uncomfortable.
Now there is a new crib in America, called Snoo which imitates the rocking movement. This crib is an invention of designer Yves Béhar and pediatrician Dr. Harvey Karp, known for his methods for helping baby's to fall asleep. How does it work, I wondered? We all know the rocking cradle, you give it a little push and he rocks until it stops. With Snoo the lower part (bottom) of the cradle rocks back and forth, as long as you want, see video. To prevent that your baby rolls to the side of de crib there is a Snoo swaddle/sleeping bag can be used which is attached to the sides. In this patented swaddle sleep the baby stays in the safest position: on their back.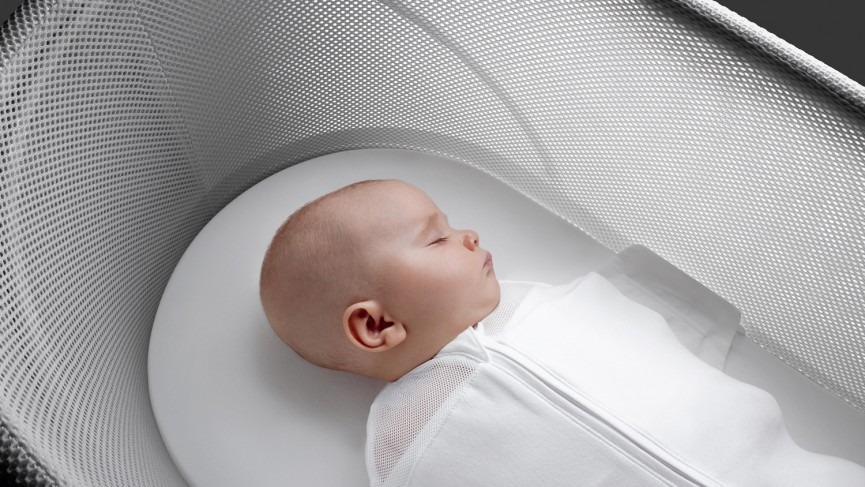 In addition there are several white-noise sounds to listen to, such as a soft rain or sounds of the womb. As your baby is more upset en cries harder, the crib will rock faster en the white noise harder. In this way your baby definitely will fall asleep they think at Snoo!
It's a nice idea and the design and lining look great. However, I have some doubts about the intense rocking motion, is that good for your child? Also, with us in The Netherlands it's not recommended to use sleeping bags with belts to fasten them because children can turn over, get tangled or may wriggle out with the risk of suffocation. And what happens when your baby is really upset and awake and you are not there? Then your baby lies in his crib all alone and is rocked back and forth endlessly while he might just wants to be in the arms of his mom or dad.
Snoo can be a solution for falling asleep if you are having sleeping problems. But is this THE solution? You also have to pay a lot of money, more than 1000 euro's to be precise (exclusive sleeping bag and fitted sheet) and you can only use it until your child is 6 months old.
https://www.youtube.com/watch?v=urvVdqBGFss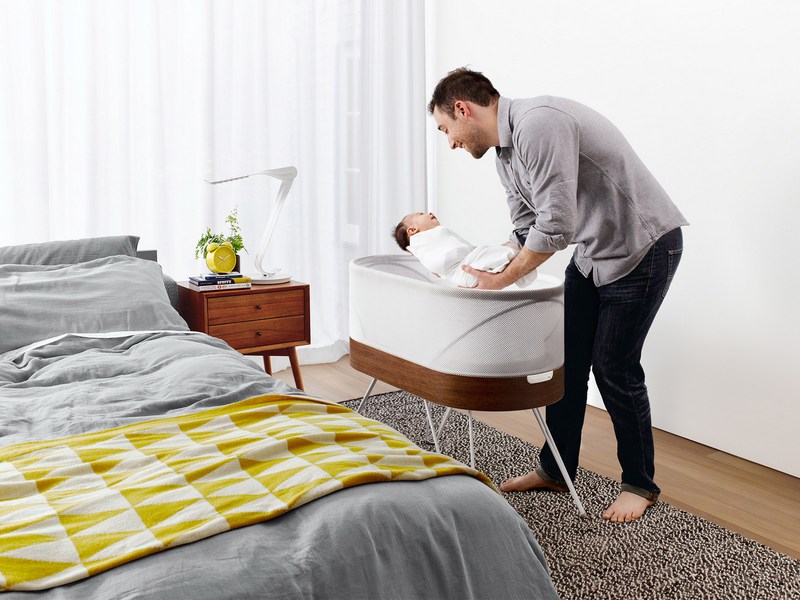 Als je een kind vanuit je armen in zijn bedje legt is het vaak huilen geblazen. Dit komt omdat de overgang van je wiegende armen, (en daarvoor je baarmoeder!) behoorlijk groot is. Je baby ligt ineens in zijn eentje in een wieg of ledikant zonder beweging, zonder het horen van het gerommel van je darmen, het ruizen van je bloed en het kloppen van je hart. Dat kan je baby als erg stil ervaren en hij of zij kan zich daarbij onprettig voelen.
Nu is er in Amerika een wieg op de markt gekomen, Snoo genaamd die de schommelbeweging imiteert. De wieg is ontwikkeld door ontwerper Yves Béhar en kinderarts Harvey Karp, bekend om zijn methode voor huilbaby's. Hoe werkt dat dan vroeg ik me af? We kennen natuurlijk allemaal de bekende schommelwieg, je geeft 'm een zetje en hij schommelt totdat deze stopt. Bij de Snoo beweegt het onderste gedeelte (bodem) van de wieg heen en weer, zo lang als je dat wilt, zie video. Om te voorkomen dat je baby tijdens deze bewegingen tegen de wand aanrolt kun je er een bakerslaapzakje bij kopen die wordt vastgezet aan de randen. Zo blijft je kindje veilig op zijn rug liggen.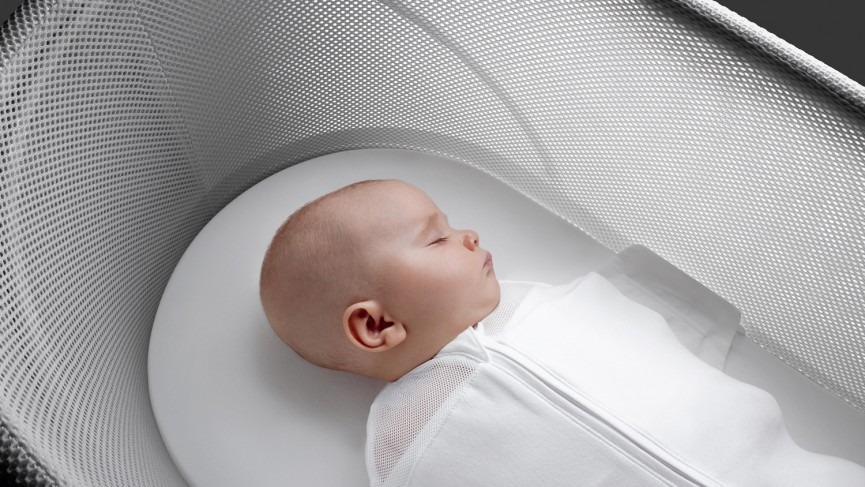 Daarnaast zijn er verschillende white-noise geluiden waaronder zachte regen- of baarmoedergeluiden. Naar mate de baby harder huilt of van streek is, schommelt de wieg sneller en worden de white noise geluiden harder. Zo moet het wel lukken om je baby in slaap te laten vallen, denken ze bij Snoo!
Een mooie gedachte en het ziet er top uit, ook met de vorm en de wanden van de bekleding zit het wel snor. Ik zet echter mijn vraagtekens bij de fellere schommelbeweging, is dat nu wel zo goed voor je kind? Bij ons wordt het afgeraden om baby's door middel van slaapzakken en banden etc. vast te zetten omdat kinderen hierin kunnen draaien of zich eruit kunnen wurmen met kans op verstikking. En wat gebeurt er als je baby overstuur en wakker is en je bent er niet bij? Dan ligt je kindje helemaal alleen in zijn wiegje en wordt maar heen en weer geschommeld terwijl deze misschien alleen maar even in de armen wil worden gehouden door papa of mama.
Snoo kan zeker een oplossing zijn voor het in slaap laten vallen van je baby als er slaapproblemen zijn. Maar om nu te stellen dat dit het Ei van Columbus is? Ook moet hier flink wat voor worden neergeteld; meer dan 1000 euro om precies te zijn (en dit is exclusief slaapzak en lakentje) en je kunt 'm maar gebruiken totdat je kindje 6 maanden oud is.