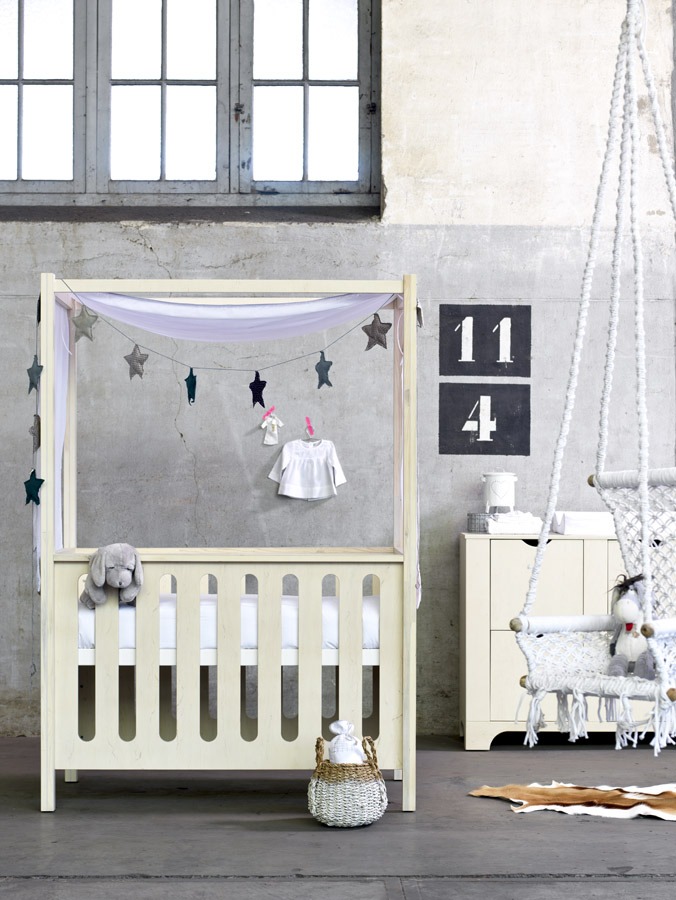 It's not so long ago that buying a complete new nursery was very normal. But much has changed. Complete babyrooms consisting of a bed, chest of drawers and wardrobe are still sold, but it has more and more become a mix and match of old and new furniture, borrowed, received or bought second hand. When I was pregnant of my first child, I had my eye on a narrow closet in my parents' garage. The grandfather of my mother was a carpenter as a hobby and he made this closet, made of oak with glass windows. After a make-over it turned out to be a nice showpiece in the nursery. So I only had to buy a new crib and a chest of drawers.
With something borrowed or something old you directly create a different atmosphere to a nursery and make this room unique! Because of these developments and upcoming low costs nursery furniture such as Ikea, unfortunately there are very few brands in the Netherlands left that invent and produce unique nursery furniture. One of these brands is Coming Kids, a trendsetting Dutch label that has kept up with the times and next to baby furniture also produce smart furniture with which you can turn your baby nursery into a teenager room. Because let's face it, how long will baby furniture last?
This new nursery furniture Cargo of Coming Kids has a basic but also a tough look. Make your own choice for a bed with or without canopy and expand the room with junior furniture such as a desk and a single bed!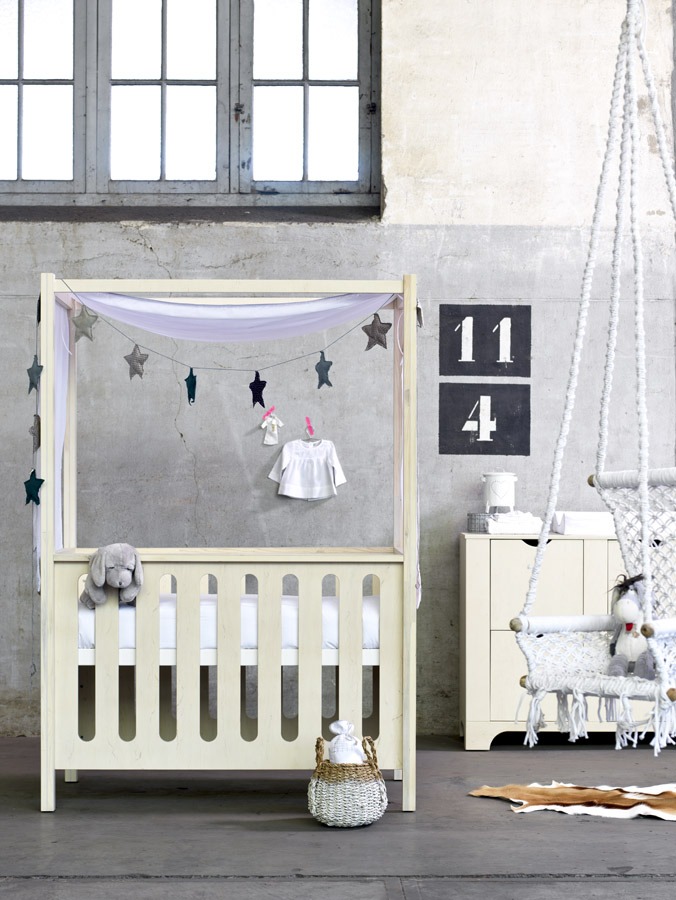 Het is nog niet zo lang geleden dat het kopen van een compleet nieuwe babykamer heel normaal was. Er is inmiddels veel veranderd. Complete babykamers bestaande uit een ledikant, commode en kledingkast worden nog steeds verkocht, maar steeds vaker is het een mix en match van nieuwe en oude meubelen, geleend, gekregen of tweedehands gekocht. Toen mijn eerste kindje zich aandiende liet ik mijn oog vallen op een smalle linnenkast die bij mijn ouders in de garage stond. Hij was getimmerd door de opa van mijn moeder, gemaakt van eikenhout met glazen ruitjes. Na een flinke opknapbeurt bleek het een mooi pronkstuk in de babykamer. Ik hoefde er dus alleen een nieuwe commode en ledikant bij te scoren.
Met iets geleends of ouds geef je direct een andere sfeer aan een babykamer, je maakt van je babykamer een uniek kamertje! Maar door deze ontwikkelingen en de opkomst van goedkope houten babykamers zoals bijvoorbeeld van Ikea, zijn er helaas nog maar weinig merken in Nederland overgebleven die unieke babykamermeubelen maken. Eén van deze merken is Coming Kids, een trendsettend label in Nederland dat met de tijd is meegegaan en naast babykamers ook meubelen levert waarmee je op en slimme manier de babykamer kunt ombouwen naar een tienerkamer. Want laten we eerlijk zijn, hoe lang gaat een babykamer mee?
Deze nieuwe babykamer Cargo van Coming Kids is gemaakt van meubelplaat dat zorgt voor een basic maar vooral een stoere uitstraling. Kies naar keuze voor een ledikant met of zonder hemelbed en breid de kamer uit met juniormeubelen zoals een bureau en een eenpersoonsbed!