[:en]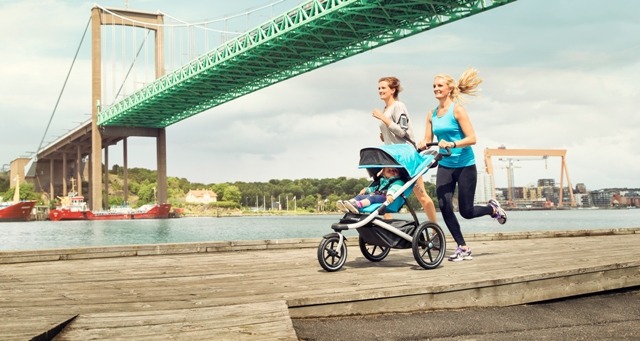 If you don't like fussy children stuff but prefer sports and adventure, consider the Swedish outdoor brand Thule! Whether you go hiking, cycling or jogging, Thule is completely specialized in the active lifestyle of parents. At Thule no complicated techniques, decorations or a exclusive collaboration with a fashion designer. If you choose for Thule you choose for simplicity, easy to use and a sleek and stylish design. This brand will increase the heart beat of a lot of men, when my husband saw this brand on one of the biggest trade fairs, he went straight for it.
Thule collection strollers, trailers, bicycle seats, back carrier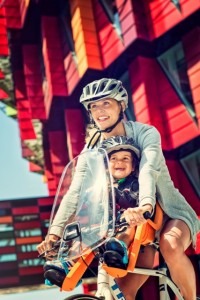 The collection consists of baby strollers, trailers, bicycle seats and a back carrier. Thule Urban Glide is a tough, versatile tricycle suitable for one or two children in a mono or duo version. There's an adjustable push bar, a foot brake and adjustable hood. When you go jogging then you just put secure the front wheel. There's a good rear suspension and the padded seat is adjustable to almost horizontal so that children can have a nap. With the Thule Bassinet carrycot you transfer this in a stroller that can be used from day one.
Besides strollers Thule also has a collection of trailers including the new Coaster XT. These trailers come with various conversion kits so they are ideal for after the bicycle, to walk behind, jogging, hiking or cross country skiing. There is even a conversion kit with skis ready to transform a trailer into a handy sled!
On the bike Thule has the Ride Along Mini and Ride Along for the back. Including one-hand adjustable footrests and protective edges for children's hands.
And for the hikers among us there is the Thule Sapling, with many luxury features such as a height-adjustable seat and mirror to keep an eye on your child.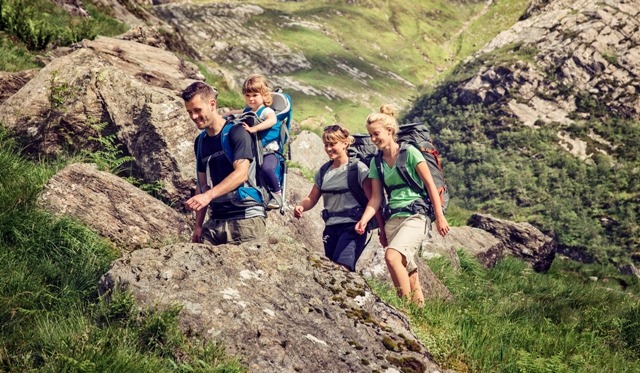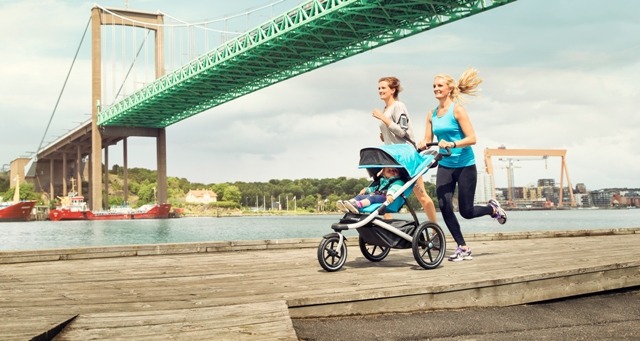 Liever geen tuttigheid maar ga je voor sportief en avontuur? Denk dan eens aan het Zweedse outdoormerk  Thule! Of je nu gaat wandelen, fietsen of joggen, Thule heeft zich helemaal gespecialiseerd in de actieve levensstijl van ouders. Bij Thule geen ingewikkelde technieken, versieringen aan de bekleding of exclusieve samenwerking met een modeontwerper. Kiezen voor Thule is kiezen voor eenvoud, gebruikersgemak en een strak en stijlvol design. Dit merk zal veel mannenharten sneller doen kloppen, toen mijn echtgenoot dit merk op een van de grootste vakbeurzen zag, dook hij er direct op af!
Thule kinderwagens, trailers, fietszitjes en rugdrager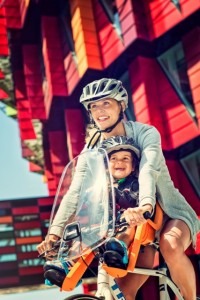 De collectie bestaat uit kinderwagens, trailers, fietszitjes en rugdrager. De Thule Urban Glide is een stoere, allround driewieler geschikt voor een of twee kinderen in een mono of duo variant. Er zit een verstelbare duwstang op, een voetrem en verstelbare zonnekap. Ga je joggen dan zet je het zwenkwiel gewoon vast. Er zit een goede achterwielophanging op en het gewatteerde zitje is verstelbaar tot bijna horizontaal zodat kindjes lekker kunnen slapen. Met de Thule Bassinet reiswieg maak je er een kinderwagen van die je vanaf dag één kunt gebruiken.
Naast kinderwagens heeft Thule ook een collectie trailers zoals de nieuwe Coaster XT. Deze trailers worden geleverd met diverse ombouwkits zodat ze ideaal zijn voor achter de fiets, om achter te wandelen, joggen, hiken of langlaufen. Er is zelfs een ombouwset met ski's waarmee je een trailer in een handige slee omtovert!
Voor op de fiets heeft Thule de RideAlong Mini en de Thule RideAlong voor achterop. Inclusief met één hand verstelbare voetensteunen en beschermende flanken voor de kinderhandjes.
En voor de echte hikers onder ons is er de Thule Sapling, met veel features zoals een luxe in hoogte verstelbaar zitje en spiegeltje om je kind in de gaten te houden.