It's so nice to decorate your nursery… when I was pregnant of my eldest son I was so excited. I chose lovely wallpaper with matching fabrics. If you are a little creative, you can do very much yourself; I made the coating of the cradle, sewed curtains, made a cover for the hot water bottle and music box. The result was amazing, I was so proud! I even made a nightlight with the jigsaw. Although a nursery is ideal to give it a personal touch we all get inspired by the latest interior trends. What is hip, hot and happening now in nursery land? Check out these four key trends: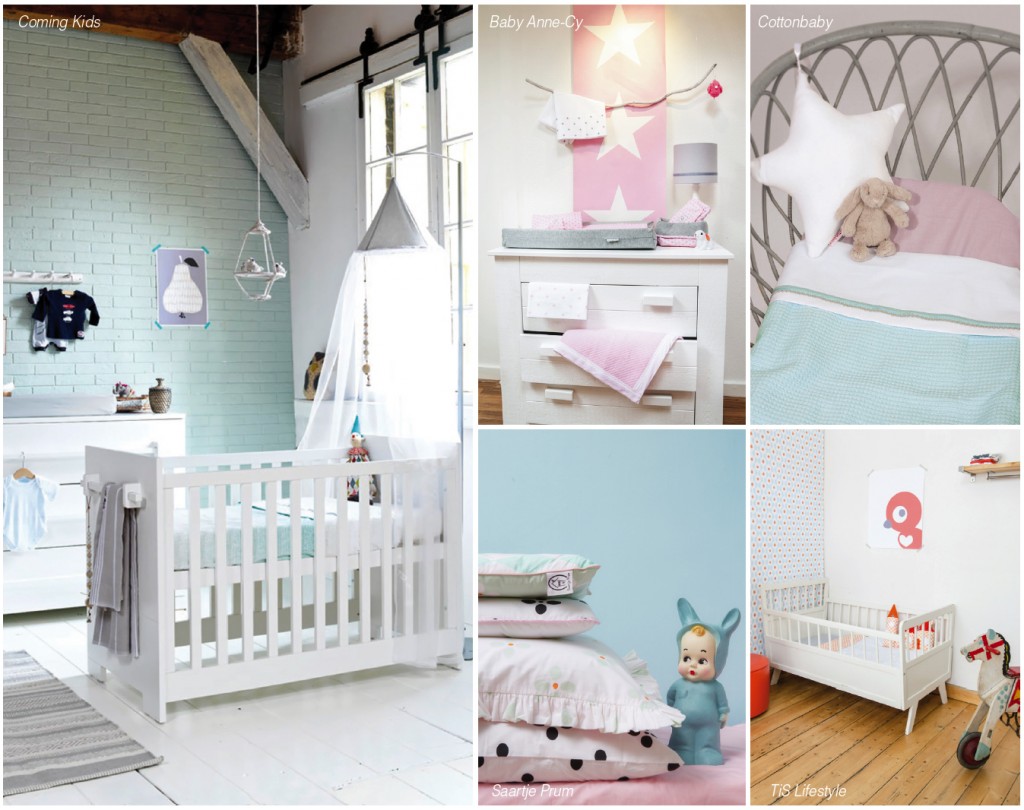 Trend 1: Pretty pastel
Pastels can't be missed in the nursery. Lovely shades of pink, soft blue and soft green and neutral grays. Smart manufacturers already translated these colors in accessories such as Baby's Only, Snoozebaby, koeka, Cotton Baby, Baby Anne-Cy, BamBam but also Southern European brands like Uzturre, Pasito a Pasito where pastels almost are an art. Pastels can be wonderful in a nursery and lighten up the room, but you can miss some excitement and energy. Beautiful combinations are those made with spicy accent colors such as raspberry, fuchsia or bright green.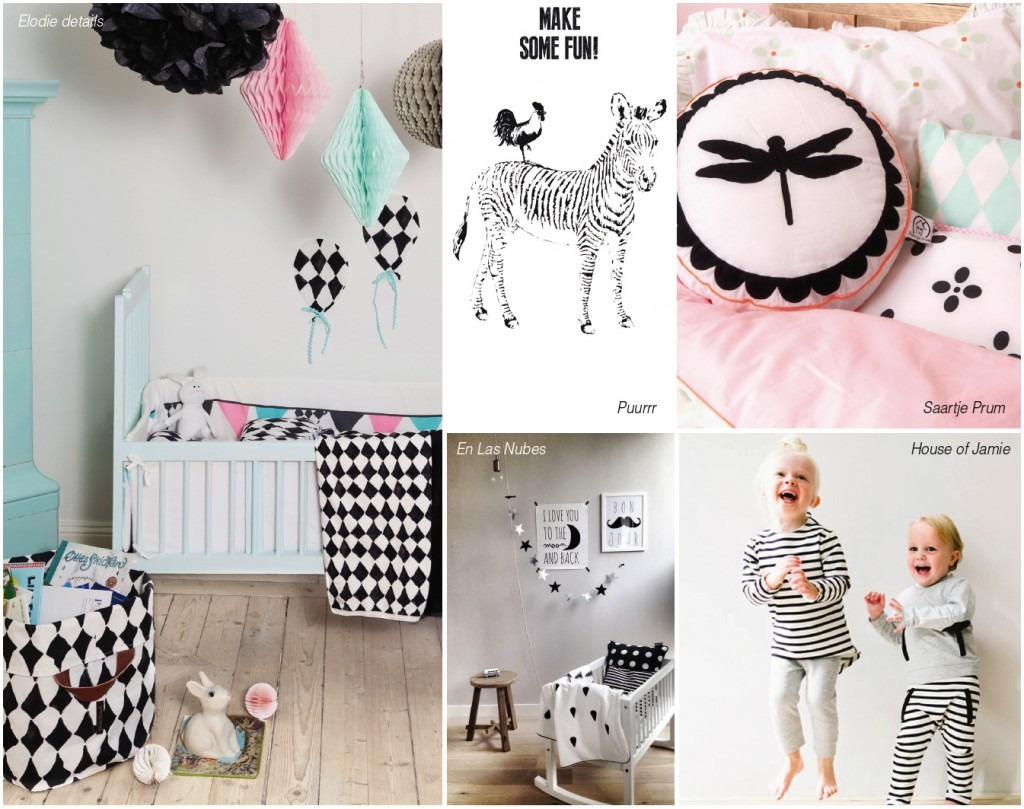 Trend 2: Sensible black and white
A nursery in black and white cold or boring? Not at all! Never before there were so many children's accessories in black and white. Think of pillows, nice lyrics that you can paint or stick on walls, posters, lights and so on. Combine these accessories with pastel shades like pink, green or blue and let the black and white accessories shine. Black and white also combine very well with spicy colors like turquoise or fuchsia. This nursery is both for boys and girls!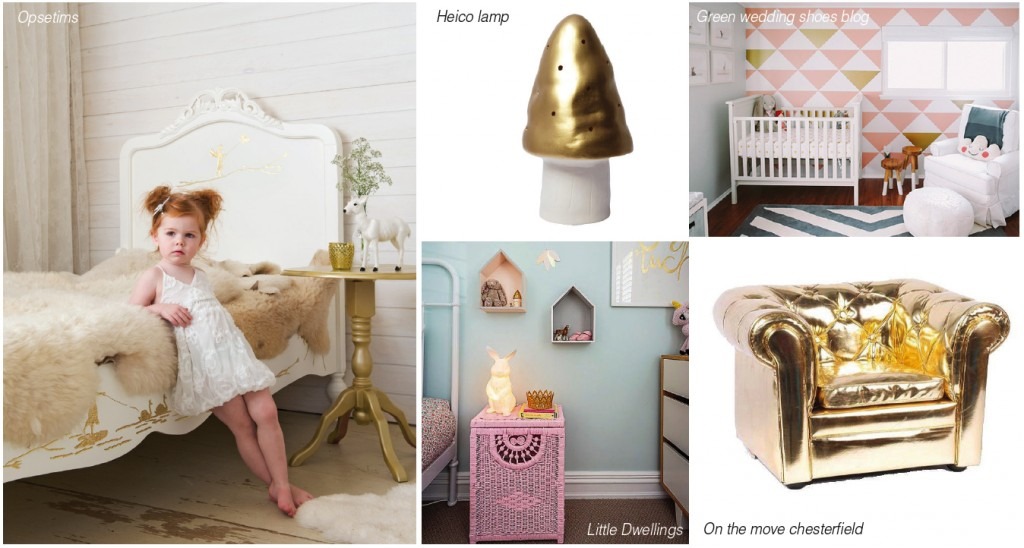 Trend 3: Beloved gold
In the interior industry already quite hot, but we see it in the nursery more and more. Please don't make it too bling bling, hammered or a little weathered is just fine. The color gold or copper gives you and your child a sunny and wealthy feeling. Ideal to use in areas with little sunlight, a light or accessory brings in the sunlight directly. Gold combines beautifully with green and brown tones, it brings peace and warmth or combine it with chic black, white and natural tones. If combined with fresh colors such as raspberry pink, petrol blue and buttercup yellow it will give the room a youthful appearance!
Trend 4: Decorative do-it-yourself
If you're becoming a mom or dad you probably want to make something for the nursery: that can be sewing, crafting or carpenting! An odd shaped branch from nature serves well for making a mobile or as a hanging rack for your finest baby clothes. A timbered tree is nice as decoration on the wall, and a separate standing tree can be used as a coat rack. You can also make beautiful things with paper such as a festive birth garland, a garland with flags, circles or other shapes. And what do you think about a bunch of origami balls in the corner of a room?
Want more inspiration? Have a look at our Pinterest nursery rooms!Niets leuker dan de inrichting van je babykamer… toen mijn oudste zich aandiende ging ik ook helemaal los. Ik koos een lief behang met bijpassende rand (ja, ja dat was toen hip…) en vond stof in hetzelfde thema. Dat ik daarvoor een stuk moest rijden om dit aan te schaffen nam ik op de koop toe. Als je een beetje creatief bent kun je heel veel zelf doen; ik bekleedde de wieg en maakte een duizenddingen mandje, naaide gordijnen, een kruikenzak en muziekdoosje. Het resultaat was geweldig, wat was ik trots! Ik heb zelfs met de figuurzaag een lief lampje gemaakt. Hoewel een babykamer zich bij uitstek leent om er een persoonlijke touch aan te geven, laten we ons graag inspireren door de laatste interieurtrends. Wat is nu hip, hot en happening bij de inrichting van baby- en kinderkamers? Bekijk hier de vier belangrijkste trends: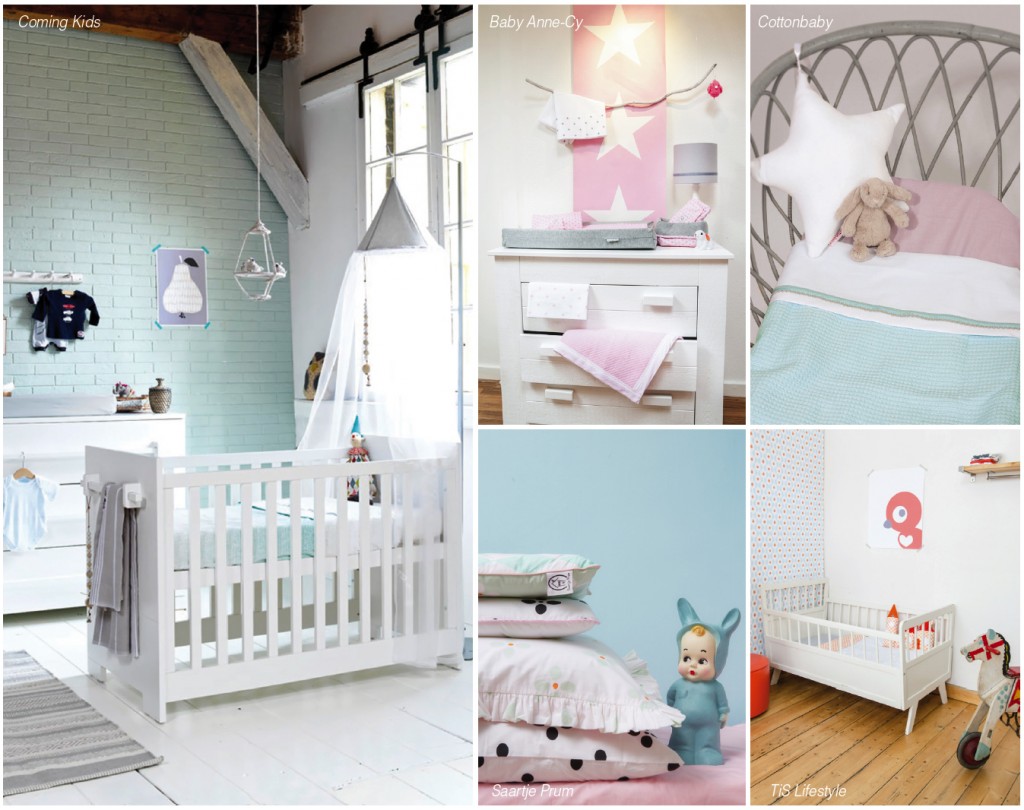 Trend 1: Pretty pastel
Pastels zijn niet meer weg te denken uit de baby- en kinderkamers. Lieflijke roze tinten, zachte minten en blauwen en neutrale grijzen. Slimme fabrikanten zijn hier al op ingesprongen: denk aan de accessoires van Baby's Only, Snoozebaby, koeka, Cottonbaby, Baby Anne-Cy, BamBam maar ook Zuid Europese merken als Uzturre, Pasito a Pasito, die pastel bijna tot kunst hebben verheven. Pastellen kunnen prachtig zijn in een baby- en kinderkamer en brengen licht in de ruimte, maar je kunt wel wat spanning en energie van bepaalde kleuren missen. Mooie combinaties zijn die met pittige kleuraccenten zoals framboos, fuchsia of helder groen.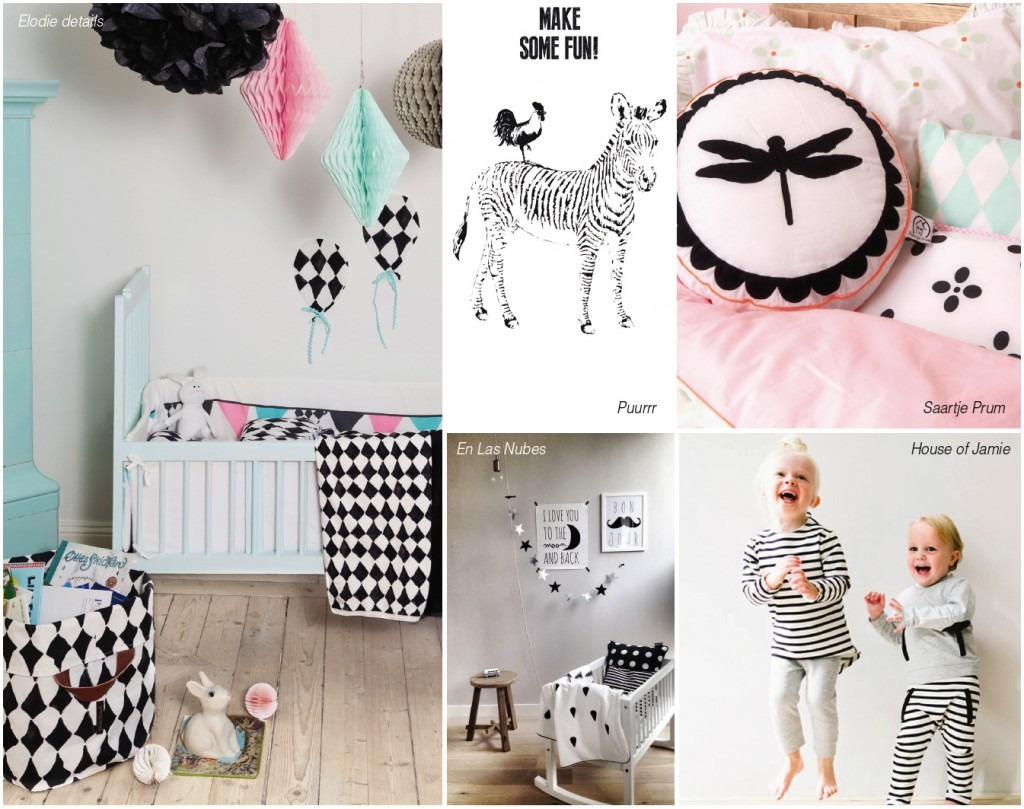 Trend 2: Zinnig zwart-wit
Een babykamer met veel zwart en wit kil of saai? Helemaal niet! Nog nooit waren er zoveel kinderkamer accessoires in zwart/wit. In de vorm van kussentjes, leuke teksten die je op muren kunt plakken, posters, lampjes en ga zo maar door. Worden deze accessoires gecombineerd met pasteltinten zoals roze, groen of blauw dan springen deze zwart wit accessoires er juist goed uit. Zwart-wit kan natuurlijk ook mooi gecombineerd worden met pittige kleuren zoals turkoois of fuchsia. Deze babykamer kan dienst doen voor zowel jongens en meisjes!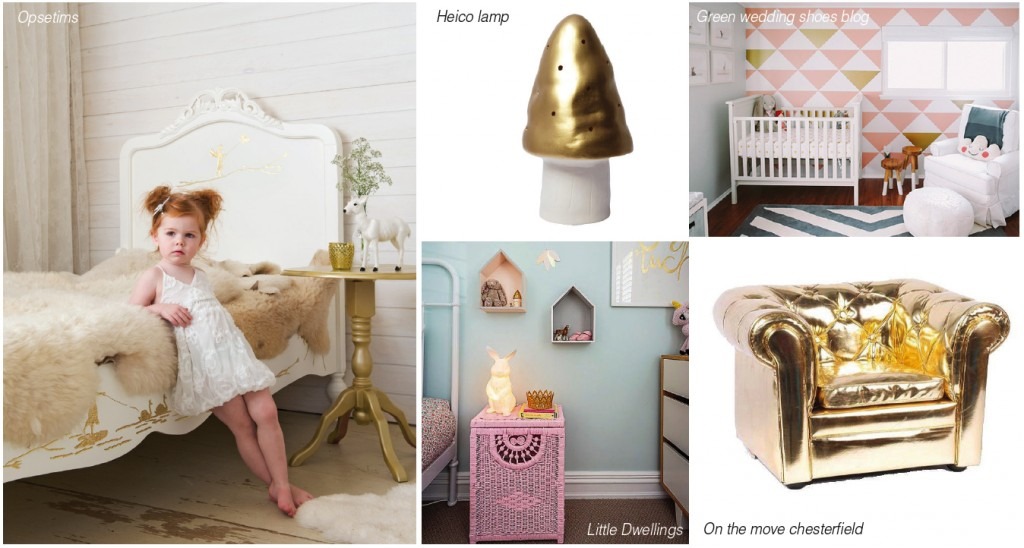 Trend 3: Geliefd goud
In de interieurbranche al helemaal hot, maar nu zo zoetjes aan ook in de kinderbranche. Liefst niet helemaal bling bling, maar gehamerd of een beetje verweerd. Bij de kleur goud of koper denken we aan zonnegeel en aan rijkdom. Ideaal voor het gebruik in ruimtes met weinig zonlicht, met een lamp of accessoire haal je direct het zonlicht naar binnen. Goud combineert prachtig met groene en bruine tinten voor rust en warmte of juist chic met zwart, wit en naturel tonen, maar gecombineerd met frisse kleuren zoals framboosroze, petrolblauw of boterbloemgeel geeft dit een kinderkamer juist weer een jeugdige uitstraling!
Trend 4: Decoratief do-it-yourself
Als je papa of mama wordt wil je graag zelf iets naaien of knutselen. Een grillig gevormde tak uit de natuur doet prima dienst om hier een mobiel van te maken of als hangrekje voor mooiste babykleertjes. Een getimmerde boom is leuk als decoratie op de muur, en een los staande boom kan als kapstok worden gebruikt. Ook van papier is veel moois te maken zoals een (geboorte)slinger; met gekleurd koord, papier en lijm maakt iedere moeder zelf een slinger met vlaggetjes, rondjes of andere vormen. Of hang een bosje origami bollen op in de hoek van een kamer!
Meer inspiratie nodig? Kijk dan even naar onze Pinterest voor meer babykamers!