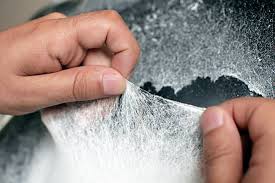 How wonderful would it be to, next to objects make adult and children's fashion with a 3D printer? Dream or reality? In my opinion, it will soon be reality watching the images and videos of Electroloom. A group of young entrepreneurs use a new technology called Field Guided Fabrication, thereby liquid is sprayed on a mold with electrospinning and voilà: you created a seamless tanktop!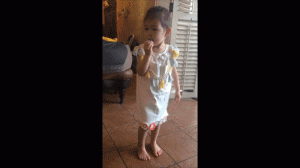 Or a girl's dress! Very special is that it concerns printed textile which made from fibers on a micro and nano-level. This makes the material flexible and light of weight. This project requires further development and therefore the founders started a kickstarter project; they are looking for testers who can help to get this project off the ground by buying a special developer kit.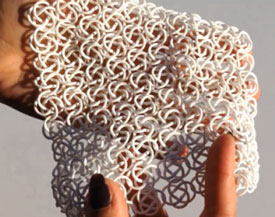 Another method for creating 3D fashion is to print small rings which are linked to each other as a knitted fabric. This is already in a experimental phase, see attached photo. But this material is not as smooth as that of the Electroloom. If these trends continue, we will be able to make design and make fashion at home ourselves in the future!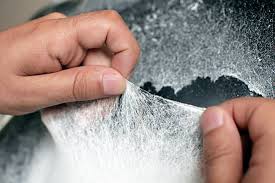 Hoe geweldig zou het zijn om, naast voorwerpen ook volwassen en kinderkleding met een 3D printer te kunnen maken? Droom of werkelijkheid? De werkelijkheid komt wel heel dichtbij als ik de beelden en video's zie van Electroloom. Een groep jonge ondernemers gebruikt een nieuwe technologie Field Guided Fabrication genaamd, daarbij wordt vloeistof met behulp van electrospinning op een mal gespoten en voilà: een naadloos hemdje of een kinderjurkje!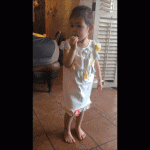 Bijzonder hiervan is dat er echt textiel wordt geprint bestaande uit vezels op micro en nano niveau. Het materiaal is daardoor soepel en licht van gewicht. Dit vraagt om verdere uitwerking en daarom zijn de oprichters een kickstarter project gestart waarbij ze testers zoeken die door het kopen van een speciale developer kit mee kunnen helpen om dit project van de grond te krijgen.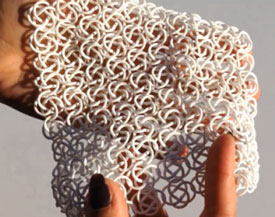 Een andere methode voor het maken van 3D kleding is door ringetjes te printen die als breiwerk aan elkaar gekoppeld zijn. Daarmee wordt al druk geëxperimenteerd, zie bijgaande foto. Maar dit materiaal is niet zo soepel als dat van de Electroloom. Als deze ontwikkeling verder doorzet kunnen we straks thuis zelf kleding ontwerpen en maken!