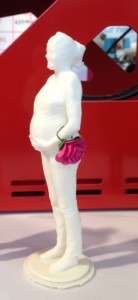 When you're pregnant most women want to make an image of their belly for later. You can make a picture of course, or you can have your belly painted and then make a picture. Another option is to plaster your belly with a do-it-yourself kit and paint or decorate it afterwards. But now there is something new on the market: create a mini-me in 3D! I saw it on the consumer fair de Negenmaandenbeurs and I was curious how it works. It seems not too complicated, though the technology behind it is very special. You take place on a shelf and then a scanner scans your body from head to toe, left and right. It takes 2 to 3 minutes, so hold your breathe…. Then the images are processed in the computer and a 3D image appears on the screen. Is this ok then the image is send to a 3D printer. You can choose from 3 types of sizes and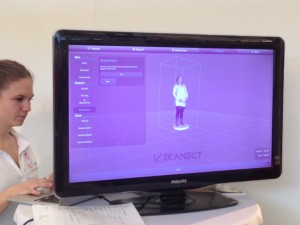 3 types of materials; white, bronze or full color sandstone. Expensive? Well, it depends what you think is expensive. I think it's not too bad for this piece of technology and you've obviously something unique: for 29.99 euro's you have a figure of 10 cm in white. You can find more information on the site of 3dmama!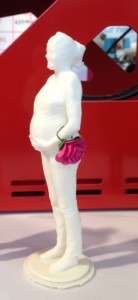 Als je zwanger bent wil je je bolle buik graag vastleggen voor later. Dit kun je doen met een ouderwetse foto, of je kunt je buik laten beschilderen en dan laten fotograferen. Een andere mogelijkheid is om je buik te laten ingipsen (kan met een do-it-yourself pakketje) waarna je de afdruk kunt beschilderen en versieren. Maar nu is er nog een nieuwe variant op de markt gekomen waarmee je je bolle buik kunt vereeuwigen: maak een mini-me in 3D! Ik zag het op de Negenmaandenbeurs en ik was nieuwsgierig hoe dit werkt. Het blijkt niet al te ingewikkeld, al is de techniek erachter natuurlijk heel bijzonder. Je neemt plaats op een soort plank waarna een scanner je van top tot teen, links- en rechtsom scant. Dit duurt 2 tot 3 minuten. Dus even de adem in houden… Daarna worden de beelden in de computer bewerkt en verschijnt een 3D afbeelding op het scherm. Is deze accoord dan wordt het plaatje naar een 3d printer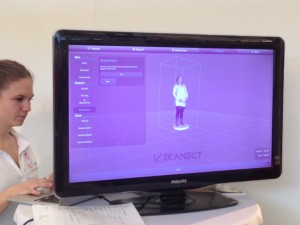 gestuurd. Je kunt kiezen uit 3 soorten formaten en 3 soorten materialen; wit, brons of full colour zandsteen. Duur? Tja, het is maar wat je ervoor over hebt, ik vind het voor dit staaltje techniek wel meevallen en je hebt natuurlijk wel iets unieks: vanaf 29,99 euro heb je een beeldje van 10 cm in het wit. Meer info vind je op de site van 3dmama!