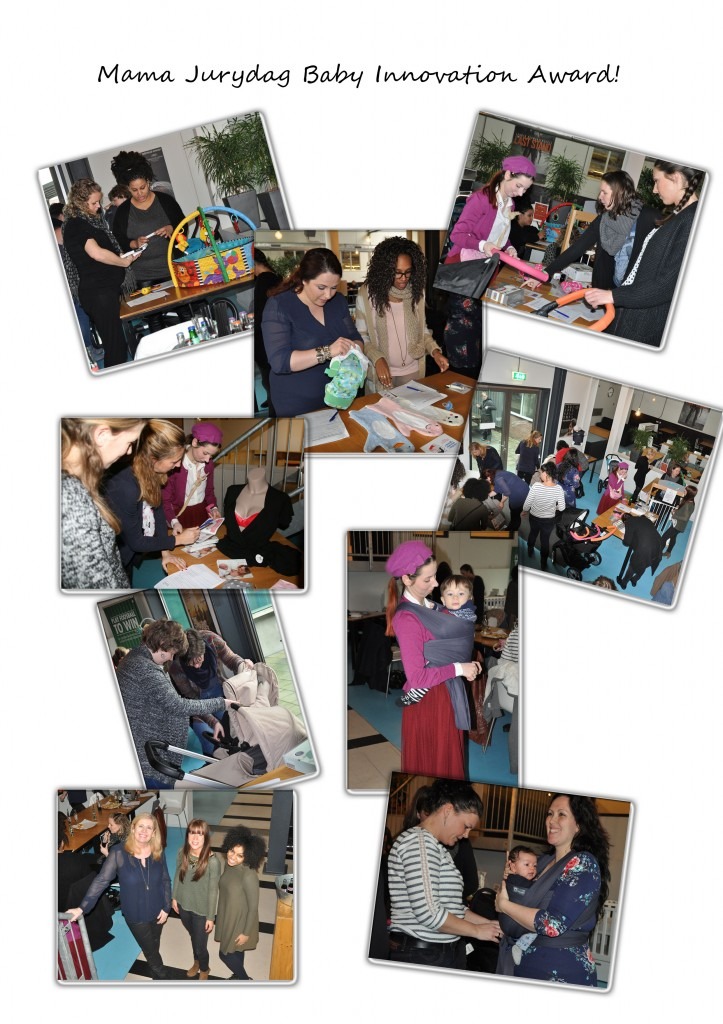 One of the fun parts of the BabyStuf Baby Innovation Award election is the Mom's jury day, which we, for the first time, organised together with the consumer titles fabulous mama and site Mama en Zo. Mothers can, as no other, judge whether a product is useful, convenient, userfriendly and especially if it's useful for their motherhood!
After having displayed all nominated products everything was ready for the live tests.  At 14:00 hours they trickled in from far and wide; pregnant mothers, mothers with a baby at home, but also a few mothers who had brought their baby. That seemed to be very handy because slings could be tested right away.
How seriously were the mothers this afternoon? Very seriously! Strollers were folded and unfolded and the baby monitor was tried out. The dental gel for painful teething was tasted and skin friendly creams were used. How do you fix this bouncer on that chair? Is the playmat safe enough? The breastfeeding top had to be tried out. Meanwhile, we jumped as information team from left to right to answer as many questions as possible.
There were words of praise and sometimes points of criticism. At the end of the afternoon we collected all voting forms and the mom's went home with a well-filled goody bag and tickets for the Negenmaandenbeurs consumer fair. Thanks fabulous mama and Mama en Zo it was a very successful and well organized day.
What's next with this election? We are counting right now, all scores must be processed and then have to wait for the outcome of the online voters. So we still have to keep everybody in suspense. When you pay a visit to the Negenmaandenbeurs in February you will see who has won in each category!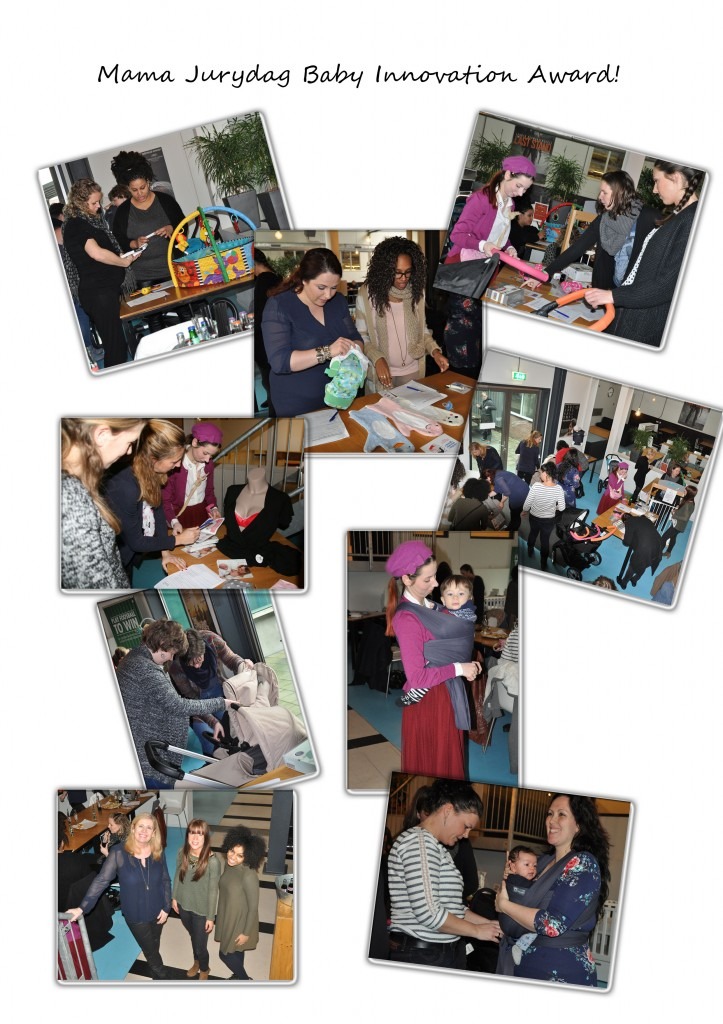 Eén van de leuke onderdelen van de BabyStuf Baby Innovation Award verkiezing is de Mama Jurydag, die we dit jaar voor het eerst organiseerden samen met de consumententitels fabulous mama en de site Mama en Zo. Moeders kunnen natuurlijk als geen ander beoordelen of een product nuttig, handig en gebruiksvriendelijk is en vooral of het wat toevoegt aan hun moederschap!
Na wat sjouw- en installatiewerk stonden alle genomineerde producten uitgestald, klaar voor de 'live' moedertest! Om 14.00 uur druppelden ze binnen van heinde en ver; zwangere moeders, moeders met een baby thuis, maar ook een paar moeders die hun baby hadden meegenomen. Achteraf gezien was dat reuze handig want zo kon bijvoorbeeld de draagdoek ter plekke worden uitgeprobeerd terwijl andere moeders belangstellend toekeken.
Hoe serieus waren de moeders deze testmiddag? Zeer serieus! Er werden kinderwagens ingeklapt en uitgevouwen, de babyfoon werd uitgeprobeerd en de beeldkwaliteit werd gecontroleerd. De tandgel voor pijnlijke doorkomende tandjes werd geproefd en huidvriendelijke crèmes werden op eigen ledematen gesmeerd. Hoe bevestig je deze wipstoel op deze kinderstoel? Is de speelmat wel veilig genoeg? Waar is de aansluiting voor deze schommelstoel? De borstvoedingstop moest worden aangetrokken. Ondertussen sprongen wij als informatieteam van links naar rechts om iedereen zo goed mogelijk te woord te staan bij vragen.
Er waren lovende woorden maar soms ook puntjes van kritiek. Aan het einde van de middag leverden de mama's hun stemformulieren bij ons in en gingen ze met een goed gevulde goodiebag en toegangskaartje voor de Negenmaandenbeurs naar huis. Dankzij fabulous mama en Mama en Zo was het een zeer geslaagde en goed georganiseerde dag.
Hoe nu verder met deze verkiezing? Het is hier tellen geblazen, want alle scores moeten worden verwerkt en daarna is het wachten op de uitkomst van de online stemmers. We moeten iedereen dus nog even in spanning houden. Kom beslist even kijken op de Negenmaandenbeurs; daar zie je wie er per categorie gewonnen heeft!