Parents are becoming increasingly mobile, and so the demand for strollers is growing worldwide. But because young parents with children like to travel light and without hassle, their wishes regarding the transport of children have changed. In this article, we take a closer look at the international market and latest trends. We also consulted our own stroller market about popular models, what has changed in terms of buying behaviour and ordering procedure since the pandemic, current supply and the second-hand market.
International research figures stroller market
Let's start with some international research figures. Grand View Research, an American research company, analyzed the global buggy market in 2019. The global turnover in this baby product category amounts to USD 2 billion. Key points in the stroller market are improved technology and the ability to deliver customized solutions to consumers. Leaving the effects of COVID-19 aside for a moment (ed.), millennials travel a lot and also with their children, but they like to do this as easily as possible. This means that there is more demand for compact, flexible stroller models.
A growing demand for strollers
Asian countries such as India, China and Bangladesh are experiencing increasing birth rates and thus a growing demand for strollers. In countries where people live in small flats or living quarters, such as Japan and India, there is a lot of interest in travel systems. Internationally, more and more women have a job. They need to be able to transport children more easily from home to day care and back again. In their search for suitable means of transport, strollers also come into play. And then there are the families who, for environmental reasons, prefer to leave the car at home and look for alternatives such as a stroller.
Lightweight strollers, sales through specialized shops
This international survey also shows that 35 percent of sales can be attributed to lightweight strollers. Most likely, these are buggy-like models. Another striking conclusion of this US study is that 55.4 per cent of sales are made through specialist retailers (2018 figures). Internationally, there appears to be a need for a 'one-top-shop experience'. This is easier for parents and takes less time. The global market is dominated by North America with a share of 35.7 per cent of the total revenue. In this continent, there is a growing number of single parents and, as a result, increasing pressure to combine work and family life in a good way. According to the researchers, it is precisely strollers that help to make the process of transporting a baby a little easier.
From medium-sized family businesses to international brands
In the Netherlands, the market was dominated for many years by a number of reputable family businesses. For example Van Delft, Koelstra, Riemersma, Van Werven and Mutsy. Unfortunately, there are only a few of them left. Mutsy recently filed for bankruptcy. An incredible amount has changed in the stroller market. Production moved to China and a lot of knowledge and technology was transferred with it. The Netherlands is too small a market, so companies soon started to cross borders. Whereas foreign brands were previously unable to compete with Western European brands, nowadays foreign brands look just as trendy and are just as safe as our Dutch strollers. Besides the introduction of a number of new Dutch brands, more and more foreign brands are setting foot on Dutch soil. As a result, the number of stroller brands has increased enormously and so has the competition. Without large investors, a small family business cannot survive, even if its stroller models are iconic, progressive, fashionable and equipped with the latest technology.
The pandemic and its impact on shop sales
The corona crisis forced many shops to close down. So how do you reach the consumer? Smart manufacturers provided comprehensive information on their own websites, offered clear product videos and live chats. Instead of an offline demonstration in-store, consumers oriented themselves directly to brands online and strollers were sold more online. Now that the shops are open again, we have to ask ourselves whether this changing orientation and buying behaviour has not changed permanently. Online orientation may be possible with existing models that are not too complicated, but what about new strollers? Young parents will want to experience the strollers and buggies for themselves. The experience and perception of shopping can hardly be reflected online.
What will the future bring? These are the trends in the stroller market
First trend: Compact strollers and travel systems
The responses we received from the market show that compact and flexible strollers are the future. Instead of one stroller with separate accessories, parents are open to travel systems, combi strollers or 3-in-1 strollers. This way, parents buy a frame with a carrycot, a stroller insert and a car seat in one. If it can be expanded with the arrival of a second child, that would be a definite plus. This trend will blur the dividing line between stroller and buggy. This is not necessarily a bad thing, but it does affect the room to move of babies that are still growing. Ergonomist Brecht Daams wrote an appropriate column about this.
Second trend: Technical tour de force
The stroller market is always watching developments in the bicycle industry. When the e-bike made its appearance, stroller manufacturers explored the possibilities of how to incorporate this technology into strollers. Introduced in 2020, the Cybex e-Priam is the first electronic stroller with a rechargeable battery that provides a little support when going up or downhill, or when pushing is just hard. Sensors in the push bar detect that you are pushing a stroller and switch on the support. It's not a cheap stroller because of the technology and quite heavy because of the battery, but definitely revolutionary and it steals the show in the shop! Whether other brands will follow remains to be seen. Because a stroller doesn't need to go fast and we don't have many hills here…
Third trend: Multifunctionality
Another trend we see is that strollers are becoming more multifunctional. Thule Chariot, Thule Urban Glide and Cybex Zeno are great examples. Strollers that allow you to take your child out in any season of the year and that are geared towards actively taking your children outside. Think of jogging, running, cycling and even cross-country skiing. With the Zeno, Cybex adds something extra: a pull with which you can pull the pushchair behind you without hands when you run. The adjustable floor ensures correct distribution of the child's weight when choosing a transport method.
Fourth trend: Sustainability
Instead of buying and owning products, the sharing economy is emerging. Look at the emerging leasing schemes for strollers and nursery furniture in our market! It has been a while since the revolutionary Green Tom, made of recyclable materials and local production, made its appearance. By now, most stroller brands have some sustainability in their genes, such as incorporating recyclable materials like PET bottles in their upholstery. Consideration is being given to the reuse of parts and the use of screws instead of rivets for easy replacement.
GOTS certified stroller
The only GOTS certified stroller we know is Naturkind from Austria. They make ecological, sustainable strollers that are handmade in their own workshop. Naturkind only uses healthy, natural materials such as organic cotton, organic sheep's wool, wood, cork and coconut fibres. Another green stroller that was introduced this year and won the Green Award of the Baby Innovation Award election, is the Belly Button by Hartan. All materials of this stroller are 100% recyclable. The outer fabric and accessories are made of 100% PET yarn and the inner fabrics of 100% organic cotton. Strollers are only made to order (no stock, the raw materials come from Europe) and the organisation is very transparent about the 'green' working methods in the factory.
We also asked different brands several questions about the stroller market. The answers were published in the September issue 2021 of BabyWereld.
Breastfeeding has rightly received a lot of attention in recent years, yet a proportion of women prefer to bottle-feed. Anyway, breastfeeding mothers switch to bottle feeding at some point. What is the status of information on bottle feeding, is it still up to date or could it be improved?
e-book about bottle feeding
In reply to this theme, we met Esther van Bloemen-Bartels, who is a baby consultant under the name baby nurse with KIWA quality mark (quality mark for self-employed workers without employees in health care) and is a member of the Professional Association Baby Consultants Netherlands. She wrote her first e-book on bottles and bottle teats in 2017. This was much needed, she said, because at that time there was no bundled information for parents and professionals about bottle feeding.
How to hold a bottle, a baby..
'I received many compliments, ranging from baby professionals, teenage mothers who confessed to feeling so much more confident after reading, to women with autism spectrum disorder who said they were happy with the answers to many of their "Why so?" questions,' Esther says. Without further promotion, the book was downloaded daily by interested people. Esther created the e-book on a non-profit basis because she feels it is important to reach as many parents and caregivers as possible. In February of this year an update was published that can be downloaded by anyone for free on 'babyverpleegkundige.nl'. Esther: 'There was so much more to tell. The increase in the number of words to be written made me decide to divide the book in two. In hardware: the bottles and bottle nipples and the software, by which I mean how to hold the bottle, how to hold the baby, why you have to sit comfortably, etc. '
In your latest e-book, you go into more detail about bottle feeding. Why are they not sufficiently known to mothers? There are also breastfeeding positions, aren't there?
Esther: 'I explain in the book what therapeutic or responsive feeding is. In doing so, you gear actions to the child's development and metabolism. Good eye contact with the child is an important part of this, as is a correct feeding position. Babies who are fed properly are often less prone to cramps and regurgitation because they are fed calmly and in tune. I am convinced that therapeutic feeding is best for most children. There are a few exceptions, such as premature babies who are best fed on their left side, with their head slightly higher than their body. Older babies with a 'been-there, done-that' attitude may benefit from the Schwester Liselotte position where the baby lies with its back on the mother's slightly raised thighs, with baby's bottom against mother's tummy.'
She's continues: 'Why these postures are not known is a difficult question. Sometimes I think that in the Netherlands we all pretend to know everything about bottle feeding as it was the most normal thing in the world for generations, with a much smaller supply of bottles, teats and materials. I think that is not quite fair to the brand-new parents who are feeding and raising their babies today.'
Which professionals advise mothers about bottle feeding?
Are they all aware of the opportunities and problems mothers experience? 'There are so many healthcare professionals in the baby field! I think we can divide them into two groups: those who provide generalist or first-line care, such as maternity care and the baby clinic. In addition, there are second-line care providers: health professionals from whom you can receive specialist care such as a lactation expert, a preverbal speech therapist or a baby consultant. I think there are also big differences within these groups, although with the guidelines of the Dutch Centre for Youth Health there should be much more unanimity in our advice.'
Bottle feeding is getting more and more similar to feeding at the mother's breast. What do you think about bottle and teat developments? What could be better?
'Many bottles have an anti-colic system. This is a kind of valve in the bottle that is vented after the baby has sucked in the vacuum. In a Dr. Brown's bottle, the small pipe in the middle of the bottle is very visible. But with Difrax and MAM it is located inconspicuously in the base and with the Philips/AVENT and Tommee Tippee it is located inconspicuously in the teat. So some things you don't see, but they are there. It's a bit like: sometimes you don't know what you don't know. And that brings me to the question, "What could be better? That is passing on knowledge and sharing knowledge. And for the healthcare professionals in particular: don't work secretly, but be open to others, make time for peer supervision with another discipline. That is so educational and fun.'
As an expectant mother, how do you decide what a good bottle is?
'That is very difficult. You have to ask yourself what you want to use the bottle for and how often. If you want to bottle feed but are still mostly breastfeeding, then using a wide neck bottle is recommended. In the baby's mouth, this shape is resembles the breast best. If the lips do not curl out nicely, it is wise to switch to a narrow neck, even if the mother is still breastfeeding. My book describes even more situations and if the construction of the mouth, lips and tongue that can influence the choice of a certain type of bottle.'
What do you think of the move to glass and sustainability?
'I hesitated for a long time whether or not to dedicate a chapter to this. I have chosen not to do it. As a result, I get this question more often now! I'll have a look at it, maybe I'll write something about it in the next version. For now, I'll stick with a bit of history; the glass bottle disappeared from the range because parents found it so heavy. Now it is back, but I also see bottles on the market made of stainless steel and silicone. I am waiting to see the experiences of the families I visit and the studies that are being done.'
And what is a good teat (type), or is it just a matter of trying it out?
'Never change a winning team,' it is sometimes said. If you have a nipple that allows you to feed for 20 minutes, without leakage and with a happy baby, then go ahead and keep on using it. Parents should always check the teat carefully for cracks or holes, and if there are any, they should be replaced immediately. If parents are not satisfied with their baby's drinking behaviour, it is wise to do the 1-3-6-9 month check, as most manufacturers offer a different size for that age group.'
When it comes to cleaning, it is now said that bottles and teats can go into the dishwasher (except for problem babies), is this still true?
'That's right, that's the advice from the Netherlands Nutrition Centre. In the dishwasher on a programme of at least 55 degrees Celsius or with hot water and soap and then clean with a bottle brush. Very occasionally, I come into families where I see bottles with little black or green bacterial specks in them. Then I am very strict and say something about it.'
Has there been any change in advice for bottle-feeding in coronary times?
'No, there hasn't. But the ability to watch other parents feed by bottle is drastically reduced under lockdown. Young parents have fewer opportunities to learn using the effective learning method of 'watching and imitating'. I hear from colleagues in hospitals about the explosive increase in the number of crying babies in the paediatric ward. In the home situations, I notice that I have much more contact with clients via WhatsApp, so that I can look into the home situation with photos and videos. It really is a very strange time to be the parent of a young child now. Hats off and a big round of applause for the parents with children from 2020 and 2021.'
This article was published in June issue of BabyWereld 2021.
Read more articles
A lot of time is spent by parents and children in a nursery or children's room. It is a place to change baby's nappies, a safe play area and children spend many hours sleeping there. So it's worth paying attention to. Parents can make their children's room personal and special by using beautiful furniture, soft textiles and special nursery decorations. What are the trends?
Interior design trends for the nursery and children's bedroom furniture
Nowadays children spend more time indoors than outdoors. Now, during the corona pandemic, children spend even more hours indoors.  A child's room is not only used for sleeping, but also for playing, gaming and doing homework. This means that even more attention is paid to the design and styling of a nursery and children's room. When it comes to furnishing, a bed, a wardrobe and a desk are the most important starting points, but creating a certain atmosphere has become just as important.
Chosing furniture for the nursery
Once the space of a nursery or children's room is known, the furniture can be chosen. In doing so, parents immediately set up a coordinated whole. If space is limited, the trick is to think big, so don't put too many small things in a room. In terms of furniture, there are several trends: first of all, the emergence of co-sleepers. Since parents are increasingly laying their babies to sleep in the parents' bedroom during the early stages of life, there has been a growing demand for co-sleepers, which have taken over the role of baby baskets or Moses baskets. More and more brands are introducing their own co-sleeper. Another furniture trend is that parents are not necessarily looking at the brand of furniture, but are looking for a certain design, such as vintage or modern.
Reusing furniture in the future
Parents are more aware of the costs involved in buying a baby room, so they prefer to opt for furniture that can be reused if you are planning for, or are pregnant with, a second baby. But also from a sustainability point of view. So not just a cot, but one that you can convert into a single bed or a small sofa. Think also of chests of drawers and wardrobes that can be converted into a functional dresser or otherwise. Buying nursery furniture is one of the biggest expenses, so parents want value for money. Quality, functionality and price are the main considerations when making a purchase.
Designing furniture
In terms of design, there is a lot to like in children's room furniture. A design cot, chest of drawers and dresser can determine the entire look and atmosphere of a small room in one fell swoop. Some parents will feel attracted by this, but most parents play it safe and consider good value for money more important. The internet and social media channels such as Instagram and Pinterest are used to gain inspiration and make the final choice.
How about safety?
A large group of parents prefer to buy second-hand or vintage furniture. Recent research by WIJ monitor (further in this issue) shows that some 57 per cent of furniture is bought new and 43 per cent second-hand. Safety remains an important consideration with second-hand items. A sleeping place for a baby, toddler or child must be safe first of all, so a cot must have correct distance between the cot bars, side walls of a minimum height and splinter-free material. The position of the baby bed is also important, away from the dangers of electrical sockets, cords of curtains or blinds. A dresser is increasingly being used as a changing area and this is a matter of concern; there are guidelines for a chest of drawers with raised edges for a reason.
Styling trends for the nursery for 2021: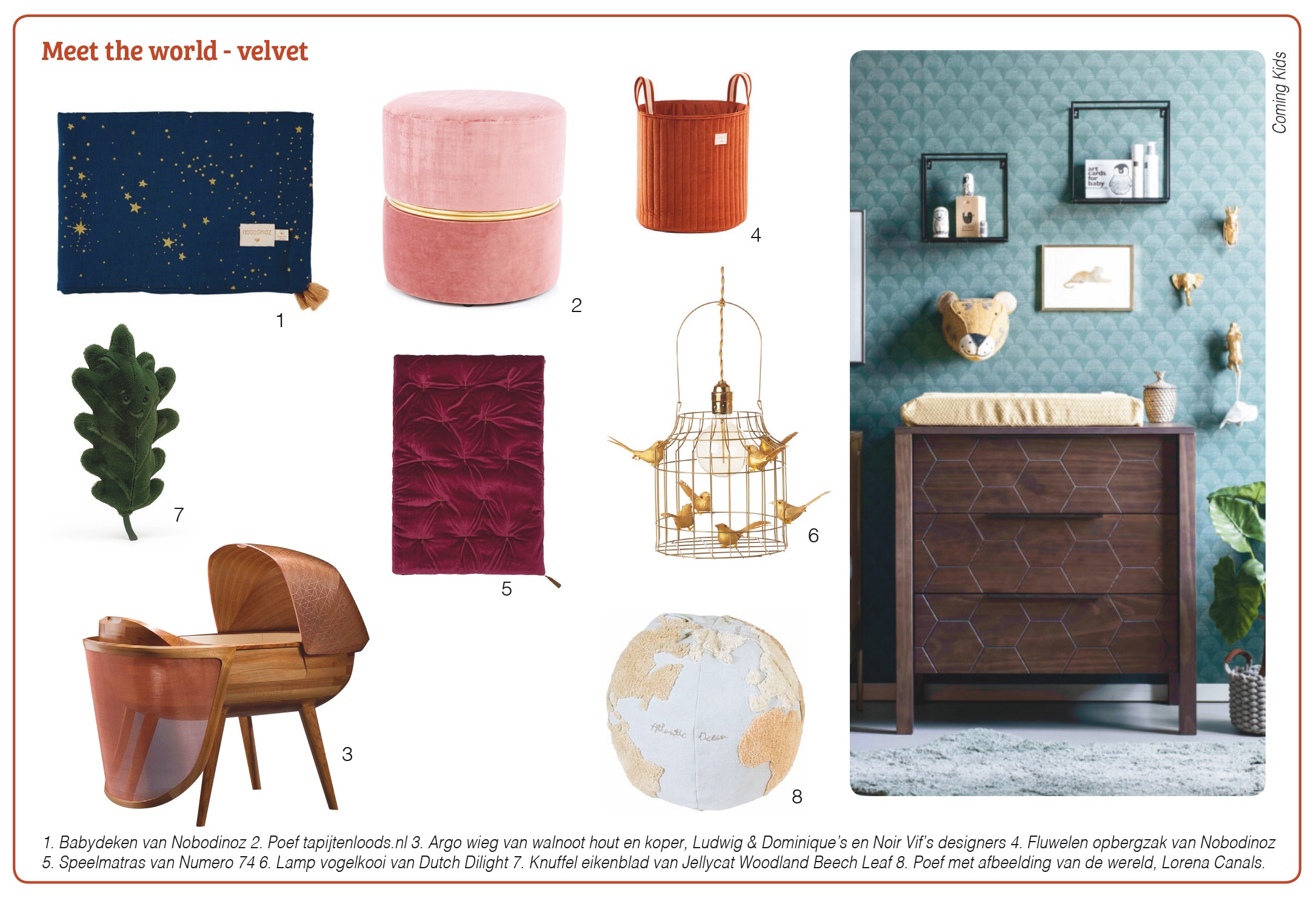 Meet the world – velvet
The crisis hinders us from travelling, but we would like to make plans and create memories. Combine furniture and/or accessories from countries you love or still want to visit. Dark colours like burgundy, sapphire blue and emerald green and various shades of brown are combined with earth tones like beige and pink. For the nursery or children's room, it is wise to use them in moderation, otherwise the room will be too dark. Think of shiny fabrics and rich materials such as velvet, leather, brass and bronze, when you want to use accent colours. Combinations with large floral prints and ethnic patterns give an extra rich feeling. In this way, parents can turn their room into a voyage of discovery for their children.
Sustainable vintage
Sustainability is here to stay. Generation Z chooses socially responsible and eco-friendly brands and likes to do its bit for a better environment for the sake of their children, irrespective of whether they choose a single recycled piece of furniture or a whole children's room. Rattan and vintage furniture straight out of the fifties or sixties is extremely popular. They are combined with materials from nature, such as sea grass baskets. All these natural tones combine well with natural fabrics, such as organic cotton, jute and wool. In addition to woven fabrics, we also see velour and corduroy, which are soft and cuddly and perfect for use in baskets, playpen covers and lampshades. The colour palette consists of brown and beige tones combined with greens, from deep green to a watercolour effect with a spicy red, orange or yellow accent as a contrast.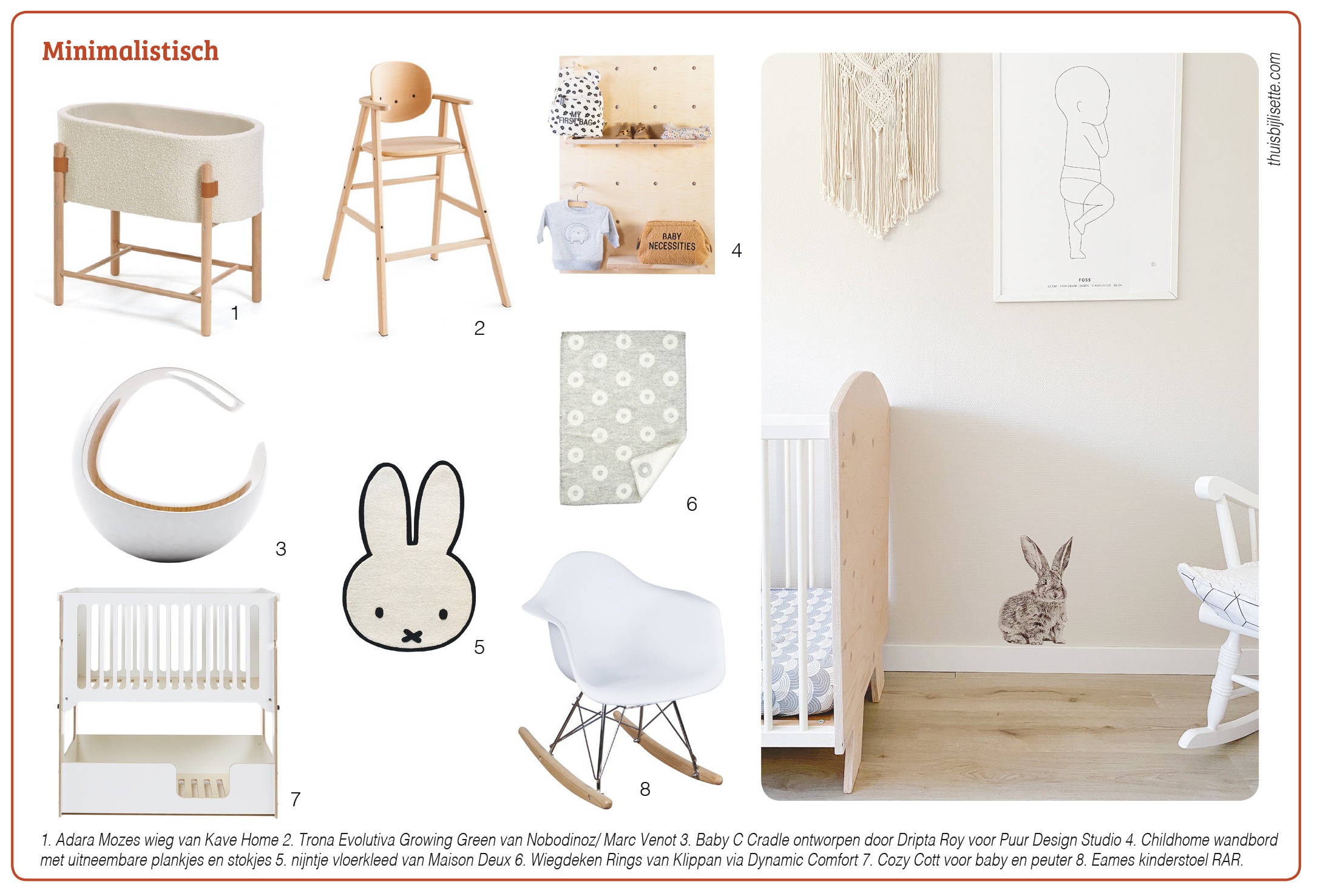 Minimalist
Interior that radiates calm with a minimum of accessories and where shapes are important. It seems to be a combination of Scandinavian and Japanese influences. Here, attention is paid to beautiful incidences of light, quiet forms and natural materials. Many rounded shapes that make everything softer and in which we can withdraw now that so much is going on in the world. With a light colour palette such as a mix of shades of white and powder tones here and there, combined with black. This includes fabrics with different structures such as linen, felt, silk, wool and teddy combined with light wood and even sleek tiles for a tidy feeling.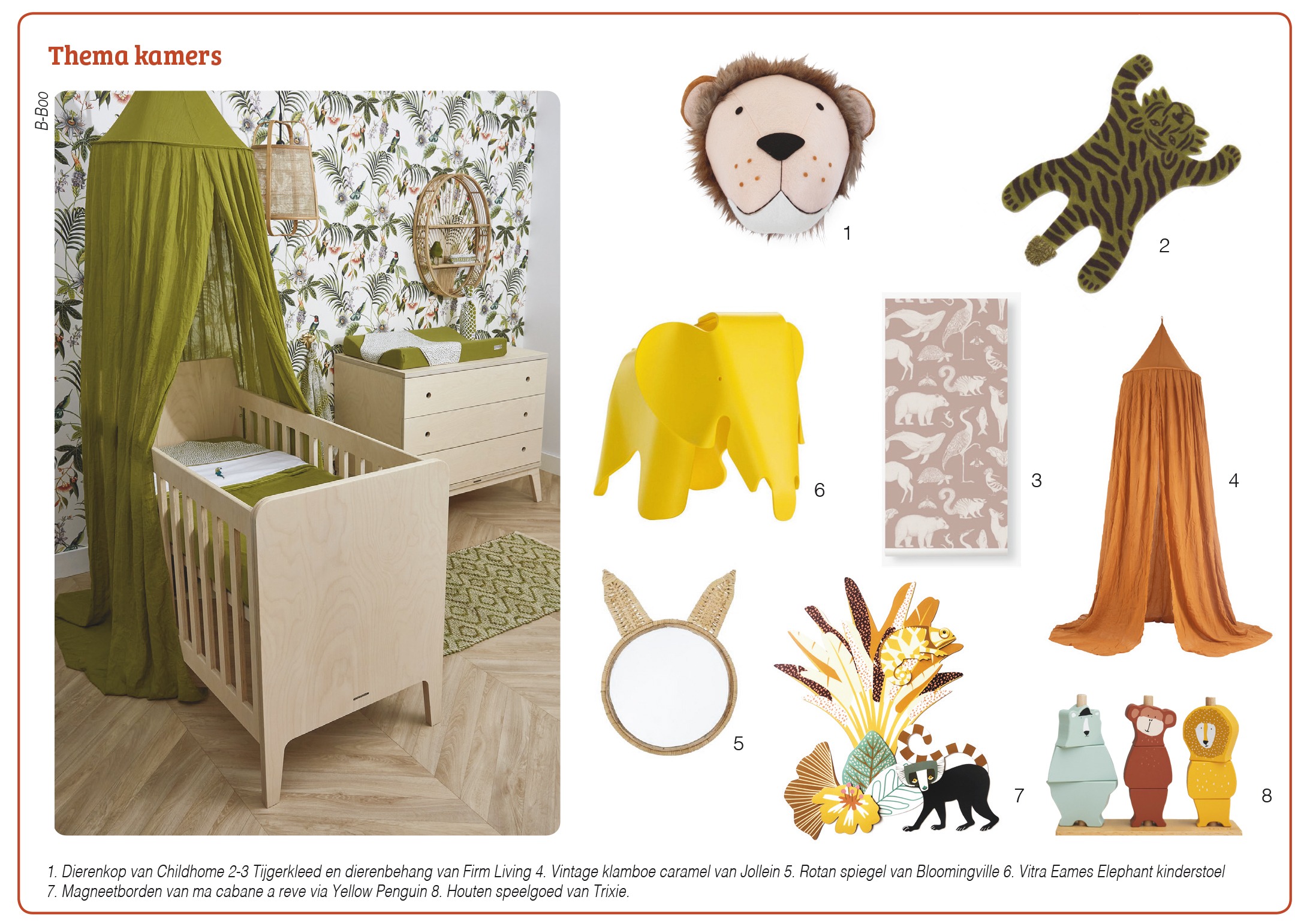 Themed rooms
Whether animals, boats, cars, flowers or fairy tales are involved, themed rooms never go out of fashion. Usually it is a mix of old, new and a theme. It is the imperfection that makes it exciting. The starting point can be a beautiful wallpaper, or a special lamp or poster. Once the theme has been chosen, there are plenty of accessories available to further style the room with cushions, blankets, toys, lamps, coloured storage crates, baskets and even a rug. With wall stickers or a nice wallpaper, parents can create a certain atmosphere in a short time.
Trends in the use of colours
Colours evoke feelings, so careful thought should be given to the correct use of colours. Red stimulates and leads to activity, yellow is cheerful, green and blue have a calming effect. Do you want to read more (in Dutch) about the effect of colours? See https://www.baby-wereld.nl/kleuren-babykamer/
At the moment we see a lot of old rose, green tones and rust colours in the baby room.
Photo: Hannelore Veelaert