Breastfeeding has rightly received a lot of attention in recent years, yet a proportion of women prefer to bottle-feed. Anyway, breastfeeding mothers switch to bottle feeding at some point. What is the status of information on bottle feeding, is it still up to date or could it be improved?
e-book about bottle feeding
In reply to this theme, we met Esther van Bloemen-Bartels, who is a baby consultant under the name baby nurse with KIWA quality mark (quality mark for self-employed workers without employees in health care) and is a member of the Professional Association Baby Consultants Netherlands. She wrote her first e-book on bottles and bottle teats in 2017. This was much needed, she said, because at that time there was no bundled information for parents and professionals about bottle feeding.
'I received many compliments, ranging from baby professionals, teenage mothers who confessed to feeling so much more confident after reading, to women with autism spectrum disorder who said they were happy with the answers to many of their "Why so?" questions,' Esther says. Without further promotion, the book was downloaded daily by interested people. Esther created the e-book on a non-profit basis because she feels it is important to reach as many parents and caregivers as possible.
In February of this year an update was published that can be downloaded by anyone for free on 'babyverpleegkundige.nl'. Esther: 'There was so much more to tell. The increase in the number of words to be written made me decide to divide the book in two. In hardware: the bottles and bottle nipples and the software, by which I mean how to hold the bottle, how to hold the baby, why you have to sit comfortably, etc. '
In your latest e-book, you go into more detail about bottle feeding. Why are they not sufficiently known to mothers? There are also breastfeeding positions, aren't there?
Esther: 'I explain in the book what therapeutic or responsive feeding is. In doing so, you gear actions to the child's development and metabolism. Good eye contact with the child is an important part of this, as is a correct feeding position. Babies who are fed properly are often less prone to cramps and regurgitation because they are fed calmly and in tune. I am convinced that therapeutic feeding is best for most children. There are a few exceptions, such as premature babies who are best fed on their left side, with their head slightly higher than their body. Older babies with a 'been-there, done-that' attitude may benefit from the Schwester Liselotte position where the baby lies with its back on the mother's slightly raised thighs, with baby's bottom against mother's tummy.'
She's continues: 'Why these postures are not known is a difficult question. Sometimes I think that in the Netherlands we all pretend to know everything about bottle feeding as it was the most normal thing in the world for generations, with a much smaller supply of bottles, teats and materials. I think that is not quite fair to the brand-new parents who are feeding and raising their babies today.'
Which professionals advise mothers about bottle feeding?
Are they all aware of the opportunities and problems mothers experience? 'There are so many healthcare professionals in the baby field! I think we can divide them into two groups: those who provide generalist or first-line care, such as maternity care and the baby clinic. In addition, there are second-line care providers: health professionals from whom you can receive specialist care such as a lactation expert, a preverbal speech therapist or a baby consultant. I think there are also big differences within these groups, although with the guidelines of the Dutch Centre for Youth Health there should be much more unanimity in our advice.'
Bottle feeding is getting more and more similar to feeding at the mother's breast. What do you think about bottle and teat developments? What could be better?
'Many bottles have an anti-colic system. This is a kind of valve in the bottle that is vented after the baby has sucked in the vacuum. In a Dr. Brown's bottle, the small pipe in the middle of the bottle is very visible. But with Difrax and MAM it is located inconspicuously in the base and with the Philips/AVENT and Tommee Tippee it is located inconspicuously in the teat. So some things you don't see, but they are there. It's a bit like: sometimes you don't know what you don't know. And that brings me to the question, "What could be better? That is passing on knowledge and sharing knowledge. And for the healthcare professionals in particular: don't work secretly, but be open to others, make time for peer supervision with another discipline. That is so educational and fun.'
As an expectant mother, how do you decide what a good bottle is?
'That is very difficult. You have to ask yourself what you want to use the bottle for and how often. If you want to bottle feed but are still mostly breastfeeding, then using a wide neck bottle is recommended. In the baby's mouth, this shape is resembles the breast best. If the lips do not curl out nicely, it is wise to switch to a narrow neck, even if the mother is still breastfeeding. My book describes even more situations and if the construction of the mouth, lips and tongue that can influence the choice of a certain type of bottle.'
What do you think of the move to glass and sustainability?
'I hesitated for a long time whether or not to dedicate a chapter to this. I have chosen not to do it. As a result, I get this question more often now! I'll have a look at it, maybe I'll write something about it in the next version. For now, I'll stick with a bit of history; the glass bottle disappeared from the range because parents found it so heavy. Now it is back, but I also see bottles on the market made of stainless steel and silicone. I am waiting to see the experiences of the families I visit and the studies that are being done.'
And what is a good teat (type), or is it just a matter of trying it out?
'Never change a winning team,' it is sometimes said. If you have a nipple that allows you to feed for 20 minutes, without leakage and with a happy baby, then go ahead and keep on using it. Parents should always check the teat carefully for cracks or holes, and if there are any, they should be replaced immediately. If parents are not satisfied with their baby's drinking behaviour, it is wise to do the 1-3-6-9 month check, as most manufacturers offer a different size for that age group.'
When it comes to cleaning, it is now said that bottles and teats can go into the dishwasher (except for problem babies), is this still true?
'That's right, that's the advice from the Netherlands Nutrition Centre. In the dishwasher on a programme of at least 55 degrees Celsius or with hot water and soap and then clean with a bottle brush. Very occasionally, I come into families where I see bottles with little black or green bacterial specks in them. Then I am very strict and say something about it.'
Has there been any change in advice for bottle-feeding in coronary times?
'No, there hasn't. But the ability to watch other parents feed by bottle is drastically reduced under lockdown. Young parents have fewer opportunities to learn using the effective learning method of 'watching and imitating'. I hear from colleagues in hospitals about the explosive increase in the number of crying babies in the paediatric ward. In the home situations, I notice that I have much more contact with clients via WhatsApp, so that I can look into the home situation with photos and videos. It really is a very strange time to be the parent of a young child now. Hats off and a big round of applause for the parents with children from 2020 and 2021.'
A lot of time is spent by parents and children in a nursery or children's room. It is a place to change baby's nappies, a safe play area and children spend many hours sleeping there. So it's worth paying attention to. Parents can make their children's room personal and special by using beautiful furniture, soft textiles and special nursery decorations. What are the trends?
Interior design trends for the nursery and children's bedroom furniture
Nowadays children spend more time indoors than outdoors. Now, during the corona pandemic, children spend even more hours indoors.  A child's room is not only used for sleeping, but also for playing, gaming and doing homework. This means that even more attention is paid to the design and styling of a nursery and children's room. When it comes to furnishing, a bed, a wardrobe and a desk are the most important starting points, but creating a certain atmosphere has become just as important.
Chosing furniture for the nursery
Once the space of a nursery or children's room is known, the furniture can be chosen. In doing so, parents immediately set up a coordinated whole. If space is limited, the trick is to think big, so don't put too many small things in a room. In terms of furniture, there are several trends: first of all, the emergence of co-sleepers. Since parents are increasingly laying their babies to sleep in the parents' bedroom during the early stages of life, there has been a growing demand for co-sleepers, which have taken over the role of baby baskets or Moses baskets. More and more brands are introducing their own co-sleeper. Another furniture trend is that parents are not necessarily looking at the brand of furniture, but are looking for a certain design, such as vintage or modern.
Reusing furniture in the future
Parents are more aware of the costs involved in buying a baby room, so they prefer to opt for furniture that can be reused if you are planning for, or are pregnant with, a second baby. But also from a sustainability point of view. So not just a cot, but one that you can convert into a single bed or a small sofa. Think also of chests of drawers and wardrobes that can be converted into a functional dresser or otherwise. Buying nursery furniture is one of the biggest expenses, so parents want value for money. Quality, functionality and price are the main considerations when making a purchase.
Designing furniture
In terms of design, there is a lot to like in children's room furniture. A design cot, chest of drawers and dresser can determine the entire look and atmosphere of a small room in one fell swoop. Some parents will feel attracted by this, but most parents play it safe and consider good value for money more important. The internet and social media channels such as Instagram and Pinterest are used to gain inspiration and make the final choice.
How about safety?
A large group of parents prefer to buy second-hand or vintage furniture. Recent research by WIJ monitor (further in this issue) shows that some 57 per cent of furniture is bought new and 43 per cent second-hand. Safety remains an important consideration with second-hand items. A sleeping place for a baby, toddler or child must be safe first of all, so a cot must have correct distance between the cot bars, side walls of a minimum height and splinter-free material. The position of the baby bed is also important, away from the dangers of electrical sockets, cords of curtains or blinds. A dresser is increasingly being used as a changing area and this is a matter of concern; there are guidelines for a chest of drawers with raised edges for a reason.
Styling trends for the nursery for 2021: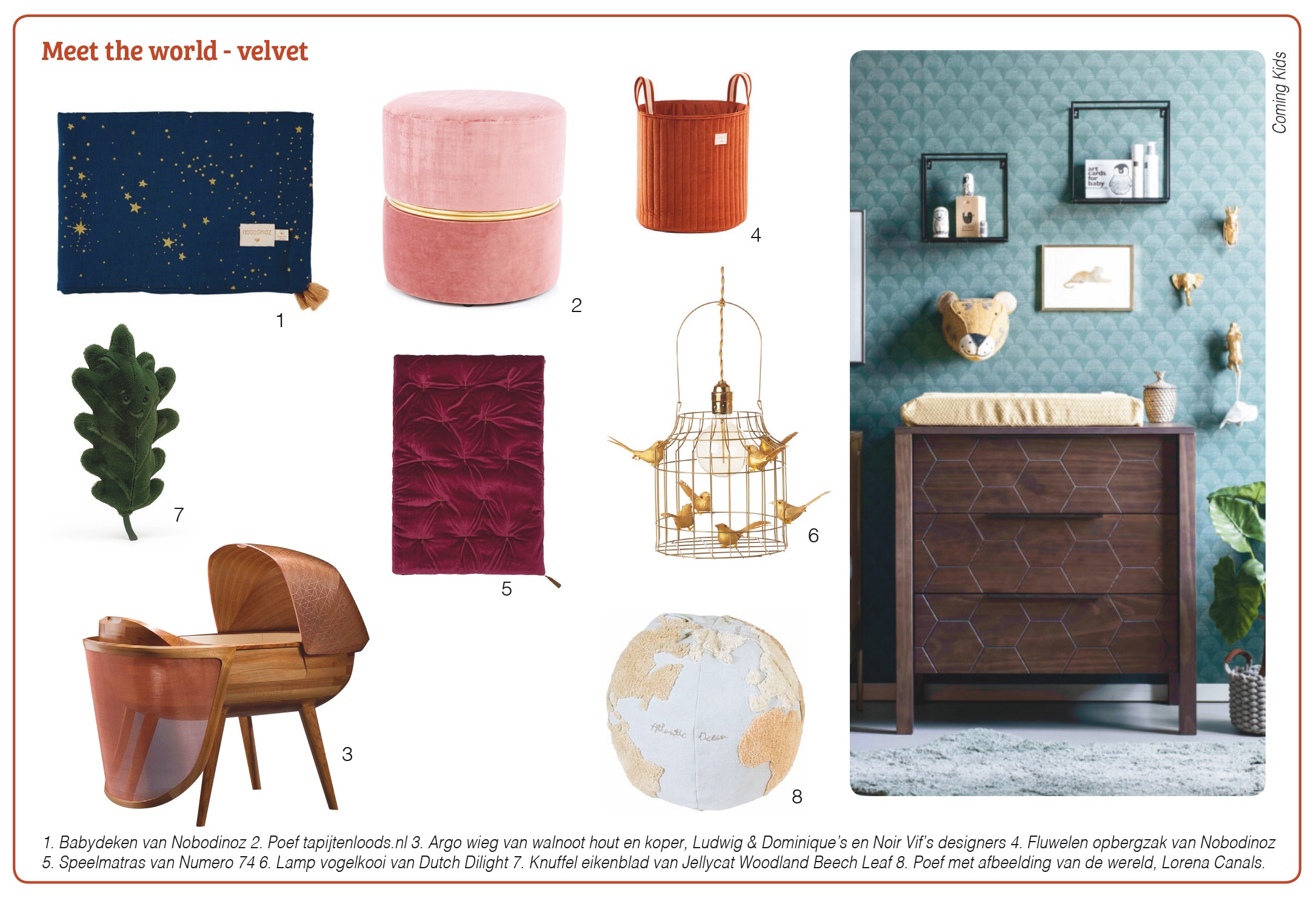 Meet the world – velvet
The crisis hinders us from travelling, but we would like to make plans and create memories. Combine furniture and/or accessories from countries you love or still want to visit. Dark colours like burgundy, sapphire blue and emerald green and various shades of brown are combined with earth tones like beige and pink. For the nursery or children's room, it is wise to use them in moderation, otherwise the room will be too dark. Think of shiny fabrics and rich materials such as velvet, leather, brass and bronze, when you want to use accent colours. Combinations with large floral prints and ethnic patterns give an extra rich feeling. In this way, parents can turn their room into a voyage of discovery for their children.
Sustainable vintage
Sustainability is here to stay. Generation Z chooses socially responsible and eco-friendly brands and likes to do its bit for a better environment for the sake of their children, irrespective of whether they choose a single recycled piece of furniture or a whole children's room. Rattan and vintage furniture straight out of the fifties or sixties is extremely popular. They are combined with materials from nature, such as sea grass baskets. All these natural tones combine well with natural fabrics, such as organic cotton, jute and wool. In addition to woven fabrics, we also see velour and corduroy, which are soft and cuddly and perfect for use in baskets, playpen covers and lampshades. The colour palette consists of brown and beige tones combined with greens, from deep green to a watercolour effect with a spicy red, orange or yellow accent as a contrast.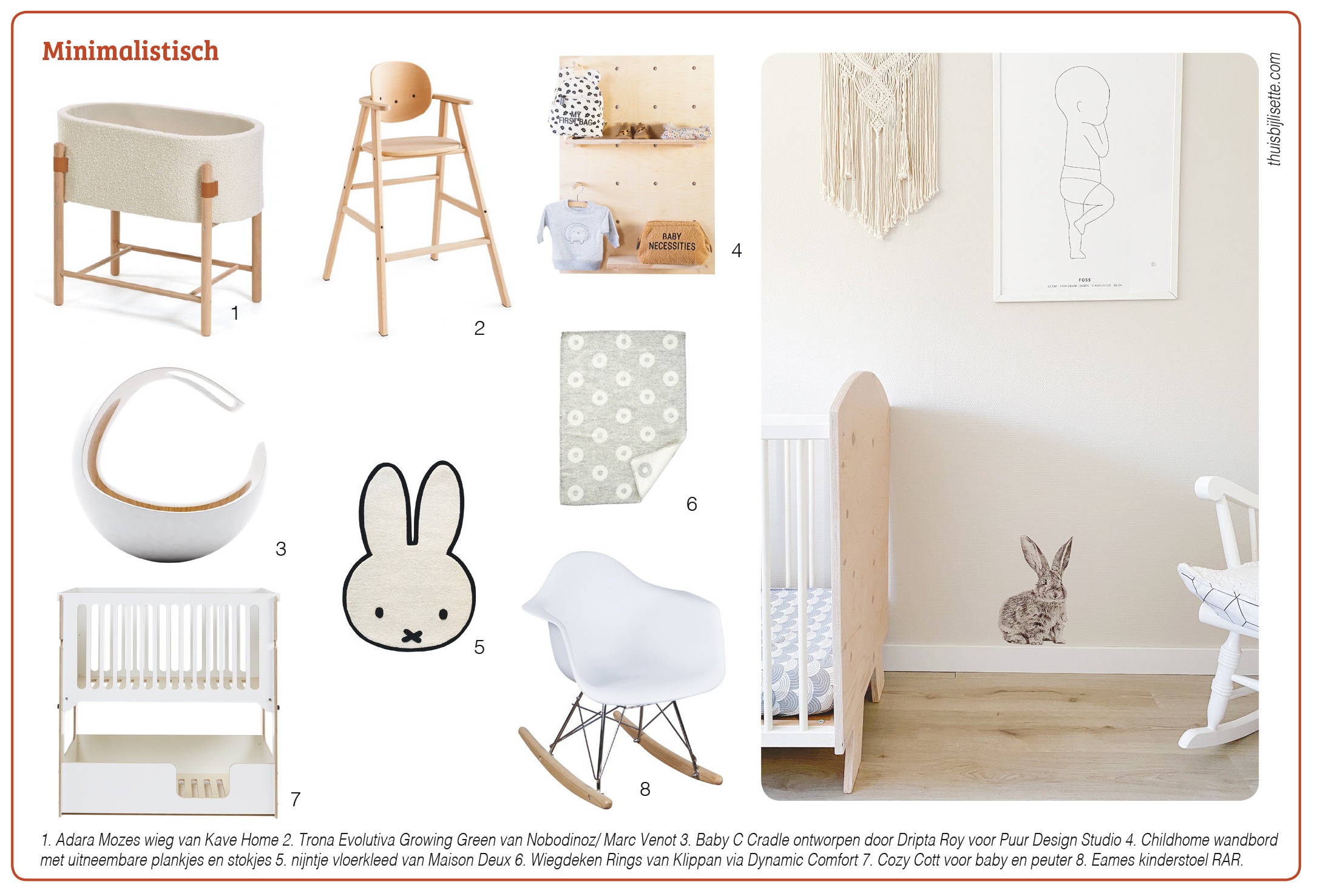 Minimalist
Interior that radiates calm with a minimum of accessories and where shapes are important. It seems to be a combination of Scandinavian and Japanese influences. Here, attention is paid to beautiful incidences of light, quiet forms and natural materials. Many rounded shapes that make everything softer and in which we can withdraw now that so much is going on in the world. With a light colour palette such as a mix of shades of white and powder tones here and there, combined with black. This includes fabrics with different structures such as linen, felt, silk, wool and teddy combined with light wood and even sleek tiles for a tidy feeling.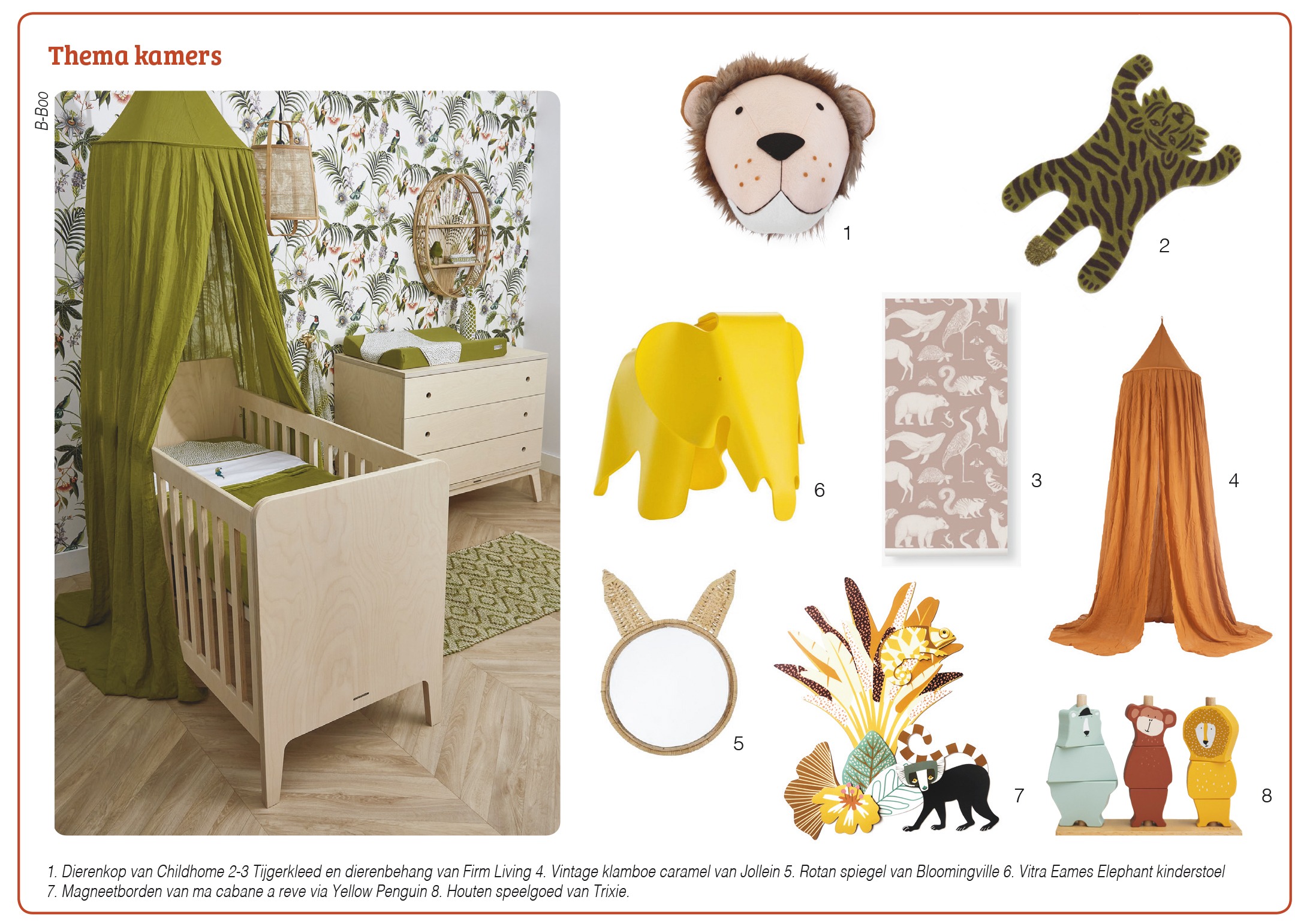 Themed rooms
Whether animals, boats, cars, flowers or fairy tales are involved, themed rooms never go out of fashion. Usually it is a mix of old, new and a theme. It is the imperfection that makes it exciting. The starting point can be a beautiful wallpaper, or a special lamp or poster. Once the theme has been chosen, there are plenty of accessories available to further style the room with cushions, blankets, toys, lamps, coloured storage crates, baskets and even a rug. With wall stickers or a nice wallpaper, parents can create a certain atmosphere in a short time.
Trends in the use of colours
Colours evoke feelings, so careful thought should be given to the correct use of colours. Red stimulates and leads to activity, yellow is cheerful, green and blue have a calming effect. Do you want to read more (in Dutch) about the effect of colours? See https://www.baby-wereld.nl/kleuren-babykamer/
At the moment we see a lot of old rose, green tones and rust colours in the baby room.
Photo: Hannelore Veelaert
Do babies move enough? What is the current situation and what could be done better at home and in childcare? In adults, the importance of exercise is clear: it ensures good health and has a positive influence on, for example, blood pressure and heart condition. In short: exercise is good for your health. In the case of small children, there is much more to it. By moving, a child exercises his musculature and becomes stronger and stronger, which is good for his self-confidence. But there's something more: with movement a child also learns to discover his or her surroundings and his or her own body.
For this subject, we interviewed expert Marije Magito, director of the 'Jonge Kind Centrum' which organises various workshops for parents with themes such as 'Sleeping', 'Playing with your baby and toddler' and weekly activities such as the Baby Club, Toddler Fun and Toddler Steps. In addition, the Jonge Kind Centrum offers training programmes and workshops to professionals in childcare. We also asked Tineke van Westerop some questions. She is paediatric physiotherapist and expert in the motor development of children from 0 to 4 years of age.
How do things stand with the motor skills of babies and toddlers?
'Babies don't move enough, not enough attention is spend on this', according to Marije. Baby clinics do keep a close eye on developmental delays and overweight, but parents are not so aware of this as to allow babies to move more and better. Parents need to learn to facilitate and support this, especially with babies. There are local workshops such as baby yoga, baby swimming, a Baby Club like the ones in Almere and Rotterdam and baby massage. Massage (touch) is more important than you think because it supports, among other things, the development of body awareness. Babies are born without any awareness of their body and this awareness grows as they get older and gain body experiences. Just think of the baby who discovers his hands for the first time. Then you see the amazement. By naming the experience, the baby begins to link words to those experiences and thus learns that his hand is his hand. During a massage, babies experience the sensation of touching their body and thus the awareness of their own parts of the body and therefore their musculoskeletal system. And you can only 'control' that musculoskeletal system properly if you know which part is suitable for what. This means that babies need to be able to practice a lot and they literally and figuratively need 'space' to do so.
If a baby is going to push himself forward on your lap by stretching its legs, he is just practising until he is strong enough to carry his own weight. Children must be given the opportunity to move and therefore learn. The Feldenkrais method assumes that babies discover themselves and the world around them on the basis of their experiences. In addition, there are the 'SpeelRuimte bijeenkomsten' [Playing Area meetings] according to the Emmi Pikler method, especially popular in the north and east of the country. Babies can play freely here and parents and supervisors can watch from the sidelines what their babies experience and learn'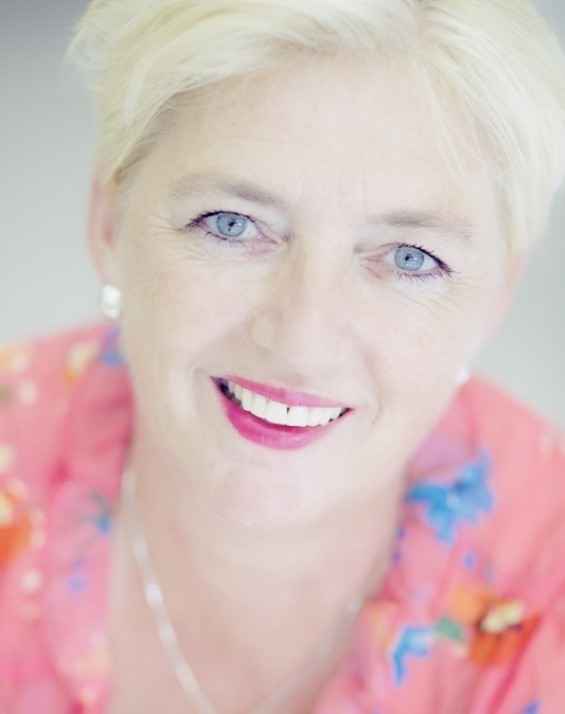 Marije Magito, general manager Jonge Kind Centrum
Parents are impatient
She continues: 'Babies naturally have their own drive to move, as a parent you don't have to do so much about that. Around 8 months of age, children will be able to sit on their own and then they will be strong enough. But parents would like their children to be able to sit and enjoy some cozy time at the table in the highchair a little earlier. Children will then be secured completely and producers will develop all kinds of things to meet the needs of parents. The fact that a child cannot sit down yet, has to do with the fact that his body is not yet strong enough for this. Instead of supporting him in this by 'securing' him to something, it is better to give a child more room to move so that he can strengthen his muscles.
I also see that activities meant for 'big children' are being offered to a far younger age group. There are sports clubs where children from the age of 1.5 years can play football for toddlers. Fathers who used to play football themselves, for example, would like their son to play football as well. Preferably as soon as possible. Resulting in 30 toddlers walking around in a group going all directions except the right one. They are just too young for that, both physically and mentally. Grass does not grow any faster by pulling it either, children grow into it on their own. It would be nice if parents and organisations could be a little more patient. In addition, the musculoskeletal system is stressed far too much on one side. Starting this kind of activity too early is not a good thing, and there is a good chance that parents will overcharge their young children and allow them to have negative experiences in something they want so badly. And this surely cannot be the intention.'
Do parents not know how to handle a baby?
'Absolutely!', Marije replies. There are many parents who do not know what a baby needs in order to develop properly. This is determined by a demographic history. The first baby held by young parents is often their own, whereas we used to babysit small children on a regular basis ourselves. Families used to be bigger, so there were always siblings to look after. And the mutual ties in the community where people lived were stronger. Now families live more apart, because you travel everywhere by car, with the result that families become isolated. At the Baby Club, we see parents coming in who do not know what else to offer a baby other than food, a clean nappy, cuddles and toys. It is also difficult to imagine what the life of parents is like now without help and with all the technology currently present'.
What about making toys available?
Children are now lying in the playpen with so many toys and cuddles that they can hardly move. They look at a babygym and above it hangs another mobile, they experience sensory overload and will not be able to play anymore. Babies get fixated, cannot filter so they will not let go of this image. The problem is also that parents do not know what all these toys now mean for their child's development. When parents join us at the Baby Club, we offer them a bowl and a ball and tell the parents: take a good look at what your child is going to try out himself. Then you will see that children discover a tray completely with their hands and mouth, put the ball in and discover that the ball can be thrown out. This way, parents learn what their child is learning. There are many beautiful toys available, but parents have no idea what exactly children learn with them. Manufacturers should be able to explain that much more clearly'.
Marije herself is a big fan of balls in all sizes, especially beach balls. 'They are light and very instructive; if you push it, it rolls away; if you push harder, it rolls further away. They get to know the shape, the weight, the material, they just engage in arithmetic! You can roll balls, throw them, you can sit on them, you can do massage and balance exercises on beach balls so that children can train their muscles'.
Is there enough information available for parents?
'I sometimes see parents who really don't know how to pick up their child and what to do with their child. Parents no longer know where to get information for the care of their child. There are so many parenting questions. They read too little and sometimes too much. In addition, they often mirror themselves to role models on social media and this does not always make them happy. And this also includes highly educated parents. The problem is much bigger than we think'.
She gives an example. Parents no longer know how to teach their little one how to climb and don't want to, afraid of falling and bruising. These are all risk-averse behaviours for which they can now buy baby helmets, knee and elbow pads and even a pillow-shaped backpack online. We have a layer of pyramid-shaped wooden furniture with a gangway. Instead of teaching the child to climb and clamber barefoot so that it learns to assess risks for itself, they hold the child by the hand and want the child to walk up on a slippery board with socks on. That does not work, of course.
What about childcare expertise?
Marije: In 2018 the law IKK came into force. This stipulates that only 3 babies are allowed to be under the supervision of a baby carer, that a mentor must be present to better monitor children's development and there is compulsory further training for the carers working with babies. But that has made baby groups unaffordable. For practical and financial reasons, they are placed in vertical groups of 0 to 4 years and that's a mistake. After all, babies cannot be placed on the ground between racing bicycles and there is often insufficient space for playpens on the ground, with the result that they are all too often placed safely in high playpens. Research data of the 'Landelijke Kwaliteitsmonitor Kinderopvang' (National Child daycare Quality Monitor) from 2018 show that the educational quality in the vertical groups for babies is lower than in a (horizontal) baby group. With the introduction of the Child daycare (Innovation and Quality) Act (IKK Act), there have only been more vertical groups. The big question is what this means for the educational quality of babies. Crowds in the group can cause babies to experience sensory overload and stress, but with the new act the risk of understimulation lurks because they receive less attention and care, especially if they are quiet babies. In doing so, the IKK Act is counterproductive'.
Ten years ago we interviewed paediatric physiotherapist Tineke van Westerop on the subject of babies and exercise. She expressed her concern about the many small children being stuck in bouncers, lounge chairs, child safety seats and highchairs, but also in strollers and buggies and the consequences for small children.
What is the current situation, do babies move enough?
According to Tineke, we have to distinguish between childcare and the home situation. In childcare, more attention has definitely been paid to dealing with babies. Employees are more aware that babies need room to move, but in practice this is difficult due to time pressure. An example: educational assistants are busy and for practical reasons they feed the babies while they are in a bouncer. Sometimes two or three in a row, that saves time. In order to prevent reflux, they let the babies digest their food comfortably in a bouncer for a while, while carrying out other tasks. Before you know it, the babies have to go back to bed or have fallen asleep in the chair without being able to move freely for a while. Educational assistants do want to organize things differently in the group, but they run into that time pressure'.
Has there been any change in the home situation?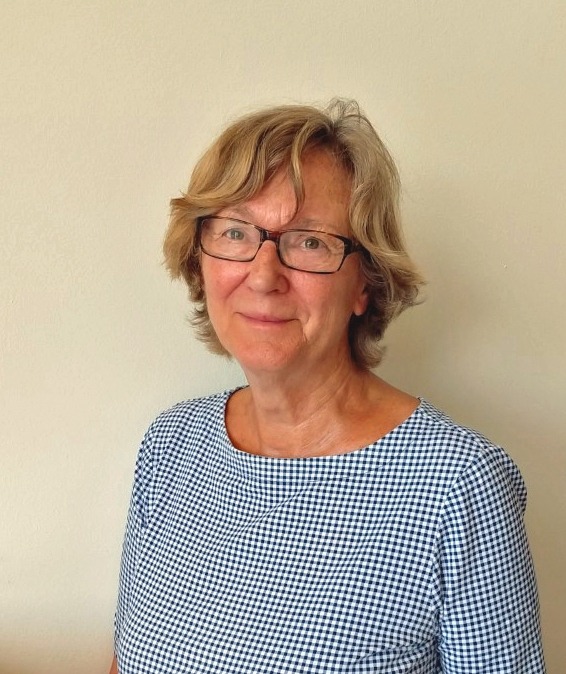 Tineke van Westerop, paediatric physiotherapist
'At home with the parents, little has changed in my opinion. It is certainly not unwillingness, but there is little knowledge of motor development. In any case, in today's society there is much more interest in children's cognitive development than in motor development. Also from the side of the government. Some children only get 1 hour of physical education per week in primary school, nothing has improved in recent years. Exercise physiologists see teenagers who don't even know that their heart will beat faster when they start to exercise. Orthopeadic surgeons such as Piet van Loon have been working hard for years for more prevention, because they are worried about all those children with back problems… What's more, all the fun of old-fashioned television is now available 24/7 on mobile devices via the Internet. You could not wish for a nicer sop. In short, from birth, children sit in a bent position for many hours. The back muscles are used far too little. This will certainly have consequences such as various musculoskeletal complaints at an increasingly younger age'.
A bouncer is handy, isn't it?
Tineke: 'Parents are convinced they can't do without a bouncer and buy too much stuff for their baby anyway. While a baby's real needs are very basic; love, attention and being able to eat and sleep at set times. If babies can rely on this, they will be able to develop optimally without our help'. She's continues: It would care a lot if the children, including the babies, were lying on their stomachs while looking at the phone or tablet. In this way they train the back muscles and strong back muscles will give you pleasure for a lifetime. Put the baby in the playpen rather than in a bouncer, because the more exercise experience a baby is allowed to gain, the better it is for brain development!'