A lot of time is spent by parents and children in a nursery or children's room. It is a place to change baby's nappies, a safe play area and children spend many hours sleeping there. So it's worth paying attention to. Parents can make their children's room personal and special by using beautiful furniture, soft textiles and special nursery decorations. What are the trends?
Interior design trends for the nursery and children's bedroom furniture
Nowadays children spend more time indoors than outdoors. Now, during the corona pandemic, children spend even more hours indoors.  A child's room is not only used for sleeping, but also for playing, gaming and doing homework. This means that even more attention is paid to the design and styling of a nursery and children's room. When it comes to furnishing, a bed, a wardrobe and a desk are the most important starting points, but creating a certain atmosphere has become just as important.
Chosing furniture for the nursery
Once the space of a nursery or children's room is known, the furniture can be chosen. In doing so, parents immediately set up a coordinated whole. If space is limited, the trick is to think big, so don't put too many small things in a room. In terms of furniture, there are several trends: first of all, the emergence of co-sleepers. Since parents are increasingly laying their babies to sleep in the parents' bedroom during the early stages of life, there has been a growing demand for co-sleepers, which have taken over the role of baby baskets or Moses baskets. More and more brands are introducing their own co-sleeper. Another furniture trend is that parents are not necessarily looking at the brand of furniture, but are looking for a certain design, such as vintage or modern.
Reusing furniture in the future
Parents are more aware of the costs involved in buying a baby room, so they prefer to opt for furniture that can be reused if you are planning for, or are pregnant with, a second baby. But also from a sustainability point of view. So not just a cot, but one that you can convert into a single bed or a small sofa. Think also of chests of drawers and wardrobes that can be converted into a functional dresser or otherwise. Buying nursery furniture is one of the biggest expenses, so parents want value for money. Quality, functionality and price are the main considerations when making a purchase.
Designing furniture
In terms of design, there is a lot to like in children's room furniture. A design cot, chest of drawers and dresser can determine the entire look and atmosphere of a small room in one fell swoop. Some parents will feel attracted by this, but most parents play it safe and consider good value for money more important. The internet and social media channels such as Instagram and Pinterest are used to gain inspiration and make the final choice.
How about safety?
A large group of parents prefer to buy second-hand or vintage furniture. Recent research by WIJ monitor (further in this issue) shows that some 57 per cent of furniture is bought new and 43 per cent second-hand. Safety remains an important consideration with second-hand items. A sleeping place for a baby, toddler or child must be safe first of all, so a cot must have correct distance between the cot bars, side walls of a minimum height and splinter-free material. The position of the baby bed is also important, away from the dangers of electrical sockets, cords of curtains or blinds. A dresser is increasingly being used as a changing area and this is a matter of concern; there are guidelines for a chest of drawers with raised edges for a reason.
Styling trends for the nursery for 2021: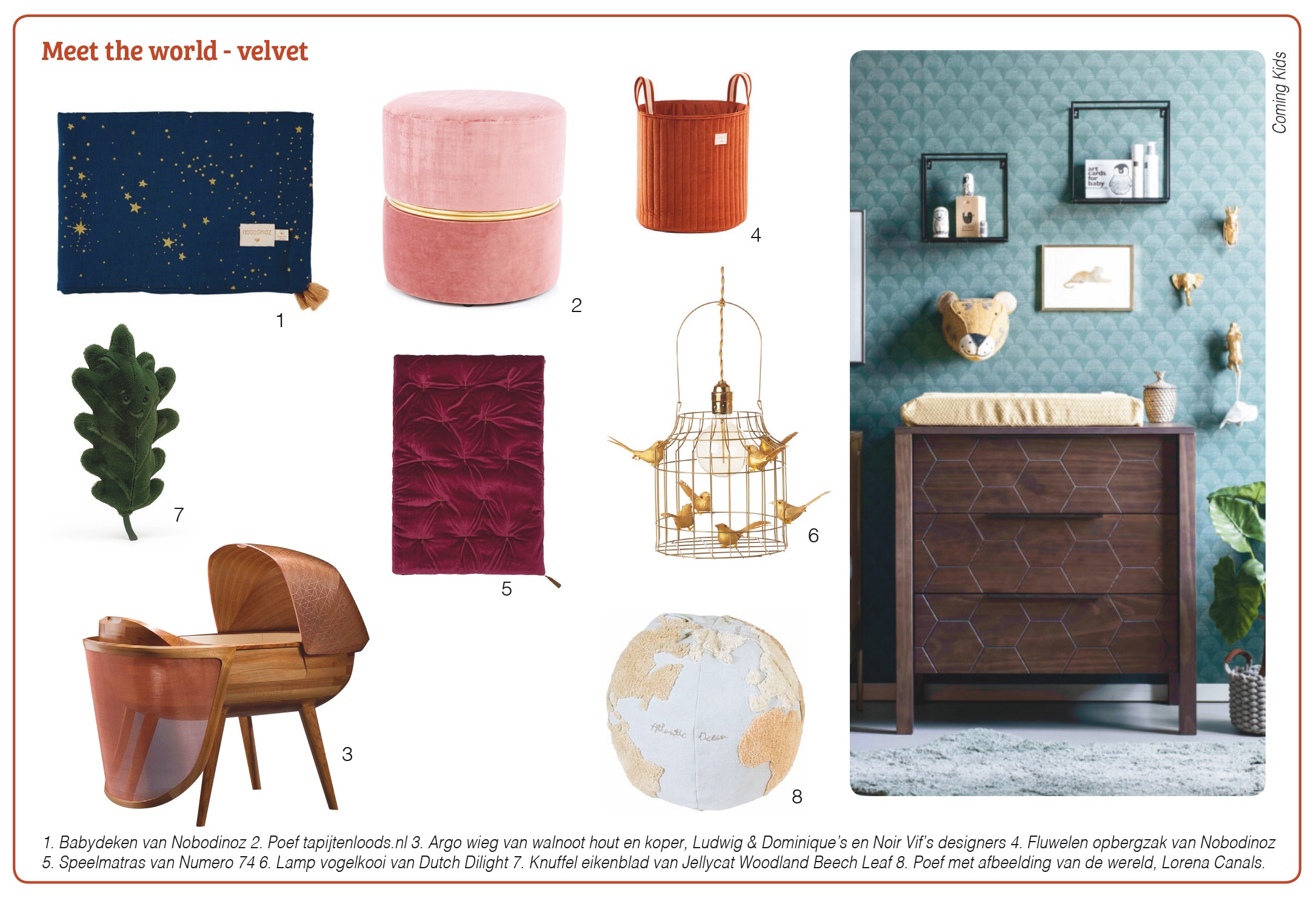 Meet the world – velvet
The crisis hinders us from travelling, but we would like to make plans and create memories. Combine furniture and/or accessories from countries you love or still want to visit. Dark colours like burgundy, sapphire blue and emerald green and various shades of brown are combined with earth tones like beige and pink. For the nursery or children's room, it is wise to use them in moderation, otherwise the room will be too dark. Think of shiny fabrics and rich materials such as velvet, leather, brass and bronze, when you want to use accent colours. Combinations with large floral prints and ethnic patterns give an extra rich feeling. In this way, parents can turn their room into a voyage of discovery for their children.
Sustainable vintage
Sustainability is here to stay. Generation Z chooses socially responsible and eco-friendly brands and likes to do its bit for a better environment for the sake of their children, irrespective of whether they choose a single recycled piece of furniture or a whole children's room. Rattan and vintage furniture straight out of the fifties or sixties is extremely popular. They are combined with materials from nature, such as sea grass baskets. All these natural tones combine well with natural fabrics, such as organic cotton, jute and wool. In addition to woven fabrics, we also see velour and corduroy, which are soft and cuddly and perfect for use in baskets, playpen covers and lampshades. The colour palette consists of brown and beige tones combined with greens, from deep green to a watercolour effect with a spicy red, orange or yellow accent as a contrast.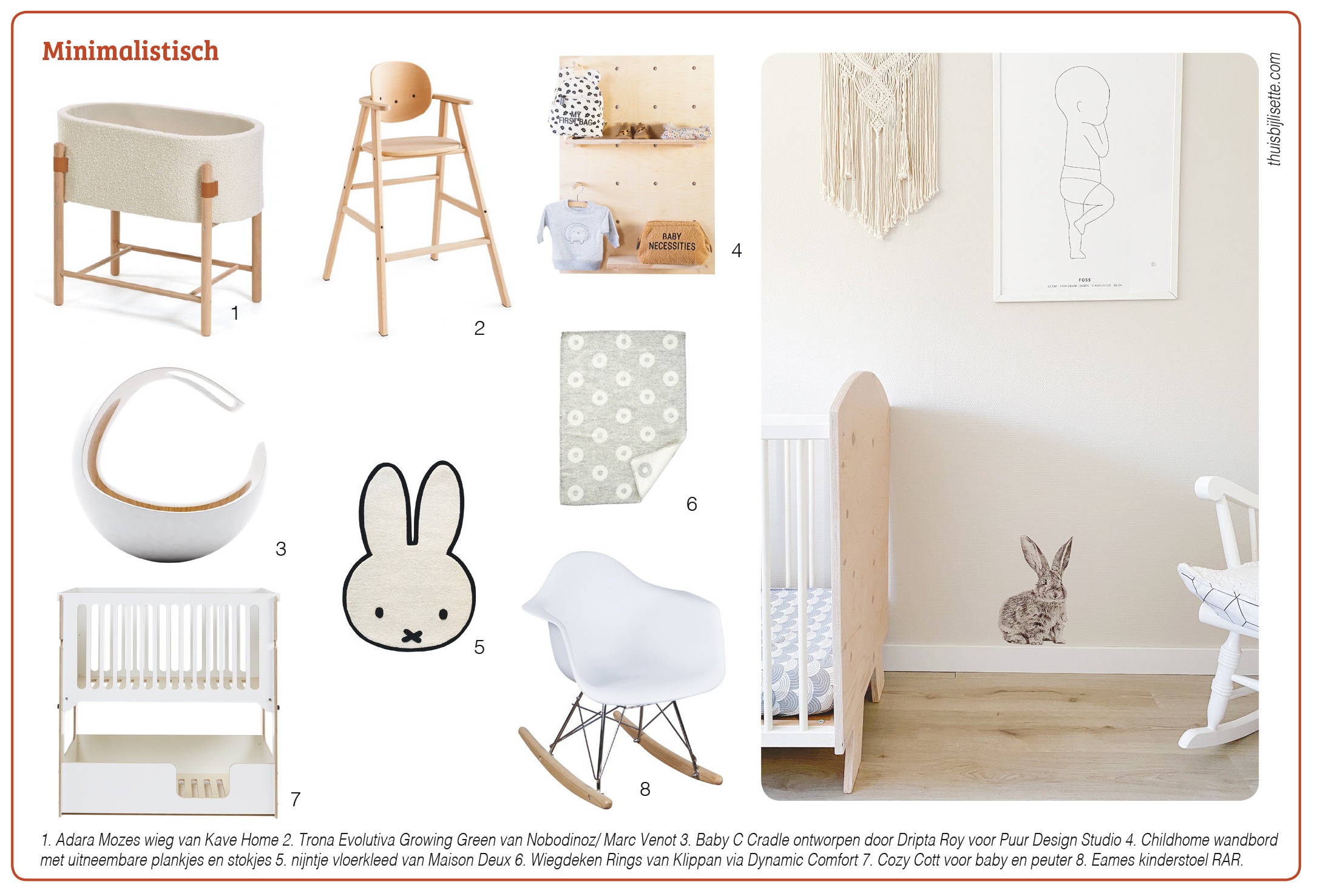 Minimalist
Interior that radiates calm with a minimum of accessories and where shapes are important. It seems to be a combination of Scandinavian and Japanese influences. Here, attention is paid to beautiful incidences of light, quiet forms and natural materials. Many rounded shapes that make everything softer and in which we can withdraw now that so much is going on in the world. With a light colour palette such as a mix of shades of white and powder tones here and there, combined with black. This includes fabrics with different structures such as linen, felt, silk, wool and teddy combined with light wood and even sleek tiles for a tidy feeling.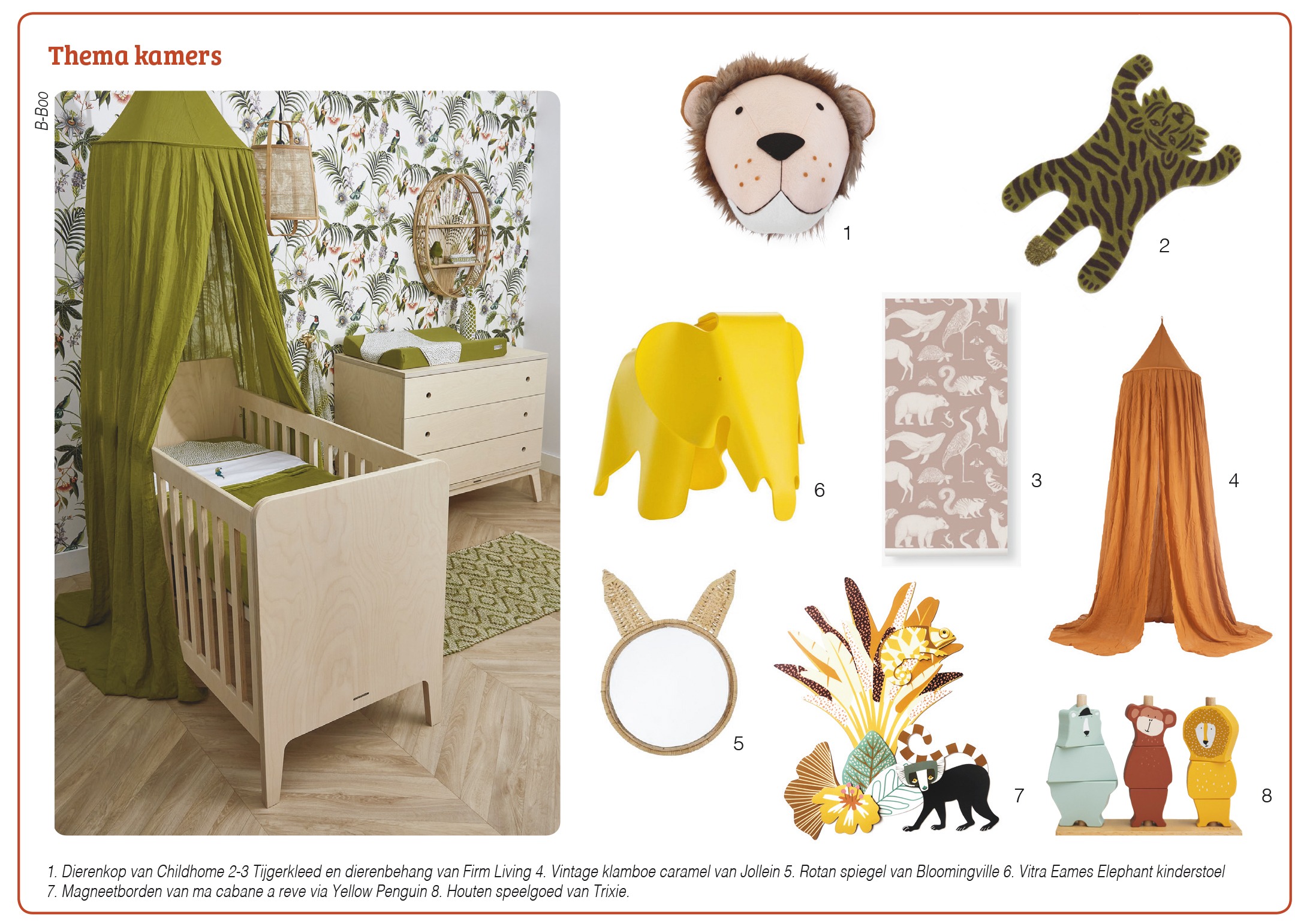 Themed rooms
Whether animals, boats, cars, flowers or fairy tales are involved, themed rooms never go out of fashion. Usually it is a mix of old, new and a theme. It is the imperfection that makes it exciting. The starting point can be a beautiful wallpaper, or a special lamp or poster. Once the theme has been chosen, there are plenty of accessories available to further style the room with cushions, blankets, toys, lamps, coloured storage crates, baskets and even a rug. With wall stickers or a nice wallpaper, parents can create a certain atmosphere in a short time.
Trends in the use of colours
Colours evoke feelings, so careful thought should be given to the correct use of colours. Red stimulates and leads to activity, yellow is cheerful, green and blue have a calming effect. Do you want to read more (in Dutch) about the effect of colours? See https://www.baby-wereld.nl/kleuren-babykamer/
At the moment we see a lot of old rose, green tones and rust colours in the baby room.
Photo: Hannelore Veelaert